58 St Mary's Bay Rd, St Mary's Bay.
SIZE:
Land 526sq m, house 185sqm (approx).
PRICE INDICATION:
CV $1.7 million. Auction October 24.
INSPECT:
Sat/Sun 1.45-2.30pm and Wed 12.30-1pm.
SCHOOL ZONES:
Ponsonby Primary, Ponsonby Intermediate, Western Springs College and Auckland Girls' Grammar.
CONTACT:
Mark Sumich, Sumich Realty, ph 0274 909 814 or ph 522 4339.
FEATURES:
Late-19th century villa. Modern timber kitchen, open-plan lounge and dining room. Two fireplaces. Separate family room. Large family bathroom, separate laundry. *Off-street parking spaces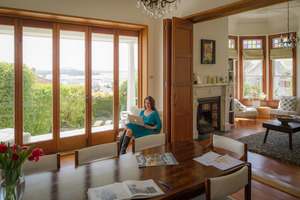 This historic family home with its turret, sea views from each level and all-round sunshine has done something to actress Theresa Healey that none of her previous homes ever managed to do.
It has quelled a restlessness in her that had her moving house many times during her adult life. Her newfound tranquillity here also had a good deal to do with her becoming a mum when her son Zac (11) was born, shortly after her move to the home 12 years ago.
Theresa and her husband, film and television producer Steven O'Meagher, bought this place with family life in mind.
Before this home came into their lives, Theresa had bought and sold five houses, as much for her love of change as for her penchant for the investment strategies involved.
Growing up in a family constantly on the move had a lot to do with that, too. "Thirteen schools and three tertiary institutions . . . we moved around a lot," she explains of her father's job turning around poorly performing department stores around the country.
"We always knew when new carpet went down that we were going. What I did love about it was that it was Mum and I who got to choose and buy the houses. By the time Zac was born, though, I knew I didn't want to do that to my children. I didn't want them to be the 'new kid' at school every year."
Theresa and Steven rented this home for five years from a couple in the same industry, before they bought it seven years ago. "It has history and it has creative history," says Theresa of the house that was built in 1895. It is known as the former harbour master's house and also the home of James Parr, who was the Mayor of Auckland from 1911 to 1915.
Its various monikers have included "the lookout" and "the pepper pot". For a day or so during renovations in the 1980s it was officially a bomb site. The then-owner, who introduced himself to Theresa quite recently, told her how he arrived home to find police, fire and bomb disposal authorities dealing with an unexploded World War II bomb builders had uncovered beneath the turret's foundations.
That storybook turret is now 8-year-old Xavier's room with all the citywide views you'd expect from a corner first-floor vantage point. "We've got views from every level," says Theresa. "We've had kids' parties on the veranda. The house is so practical and so warm and light because every single room gets the sun. We've loved it here. It is urban rather than suburban and you feel as if you are part of everything that happens here."
All the significant house renovations had been done by previous owners, including those by award-winning architect Felicity Wallace who designed the period veranda extension that opens the dining room to the outdoors. She redesigned the kitchen with its funky funnelshaped ceiling that has a sandblasted glass pane at the apex with the words "Sure to Rise".
Across the hallway in the laundry, she repeated the kitchen's timeless combination of timber cabinetry and a stainless steel bench. Nearby, she has given the tiled bathroom, with its pedestal basin and clawfoot bath, a fresh style-appropriate look.
Original features include timber floors, coloured and stained glass windows, the hall archway and the sweeping staircase.
Sadly, the O'Meagher family are closing the door on this part of their life reluctantly in favour of a move to a home with more land for their boys.
And that means Theresa will need to find a new spot for her day bed on which she stretches out to learn her lines for her next production.