445 Riddell Road, Glendowie.
SIZE:
Land 918sq m, house 209sq m.
PRICE INDICATION:
Similar clifftop properties here sell for about $2 million. Auction October 3.
INSPECT:
Sat/Sun 12-12.30pm.
SCHOOL ZONES:
Churchill Park Primary, Glendowie College.
CONTACT:
Lynette Boyd, Barfoot & Thompson, ph 215 8530 or 0274 757 205.
FEATURES:
Single-storey 1950s clifftop home with casual living, separate formal living with a fireplace, one family bathroom and one en suite. North-facing decks, tiered gardens with pathway to the water. Extra off-street parking.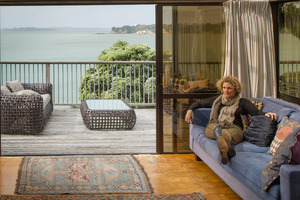 Twice over, temptation has caused Vicki and Greg Fulton to shelve building plans to improve their homes. In this last instance, right here beyond the tiered gardens that lead down to the water's edge, the chance to just kick back and enjoy life as it presented itself was too good to resist.
Four years ago Vicki and Greg waved goodbye to their former home two doors up the right of way here and walked down towards the water and into their newly purchased home. With the help of friends and neighbours they'd carried all of their household belongings - from the pantry stores to the heavy furniture - into their new home, one step closer to their dream of creating a splendid family home with its pathway down to the waters of the Waitemata Harbour.
They had plans drawn up for a new three-storey home on the site of their former home. But all that changed when the people who previously owned this house came knocking and said, "You told us to tell you if we ever decided to sell. Well we've had an offer and you've got 24 hours to decide whether you want this place or not."
The Fultons made their choice, shifted in and commissioned their architect to come up with a family home that would maximise their investment in their enviable location. But those drawings of a double-storey weatherboard and schist home on the footprint of this single-storey home never came to fruition.
A busy family routine with adult children and various business commitments meant that a life lived here in the house, just as it has stood for many years, felt pretty good.
Each evening's routine of pulling up at the door and settling down to eat, lounge and entertain overlooking the harbour high above the water's edge put paid to all the notions of tackling a major rebuild. Vicki and Greg had talked about more modest changes including better connecting a new kitchen with the family room. In the end they settled for a new paint job, rolling white paint over the peach coloured walls to give that big space a fresh, more modern look.
The Fulton family have been perfectly content with how the house has supported their lifestyle. Its layout with its north-facing everyday living area and large deck has given them a connection they all liked with the outdoors, whether it is off their living area or off the north-facing bedrooms.
The layout of the 1950s solid plaster house has been quite functional, given that it has been clearly altered and updated in parts by its former owners.
The conservatory, with its aluminium joinery, is clearly the most modern addition. Nearby the small cafe-style dining area takes in the view, close to the galley-style kitchen which has a laminate bench top and plenty of under-bench cupboards.
Within the kitchen there is one pantry. Nearby off the hallway there's a second scullery-style pantry large enough for a second fridge, larger bench top appliances and shelves for vases and platters. Further down the hallway, the master bedroom, another double bedroom and the study all open out to the deck that is framed by an elegant rimu tree.
Nearby, the large formal lounge adjoins the formal dining area that opens to a south-facing courtyard, complete with pergola and large flowering magnolia tree.
After years being well-connected to their water's edge surroundings, Vicki and Greg have decided that it is time to put all ideas of house building aside for good and move into an apartment.
The hard part leaving here will be turning their backs on the view.
As Vicki puts it; "This view is hard to beat."