19 William Denny Ave, Westmere.
SIZE:
Land 942sq m, house 234sq m, garage/studio 84sq m.
PRICE INDICATION:
CV $1.9 million. Auction August 29.
INSPECT:
Sunday 1.15-2pm.
SCHOOL ZONES:
Westmere Primary, Pasadena Intermediate, Western Springs College.
CONTACT:
John Erceg, Unlimited Potential, ph 021 995 866.
FEATURES:
Bungalow with studio, north-facing deck and climate control.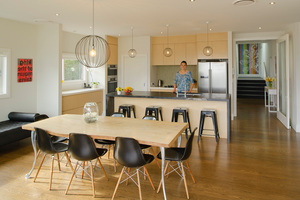 Not surprisingly, for almost 10 years the tennis-mad Nola family have lived within lobbing distance of the popular West End Tennis Club.
It's only the prospect of their own tennis court that's luring them away from Westmere and out to the country.
Grant and Pavlina met on the world tennis circuit (she was a Bulgarian champion) and lived in apartments before they had children.
After the arrival of two sons they twice tossed up between town and country.
Both times Westmere won. "I didn't understand why New Zealanders move out of apartments when they have kids," admits Pavlina. "But now I totally love it."
She's especially smitten with the huge front yard they created by moving the original bungalow to the rear of their large section.
It might not quite fit a tennis court, but the private, hedged space can host football matches for the boys and their friends and has consented plans for a swimming pool.
It's shielded from the street by the double garage, with an adjoining work-from-home office.
The couple transformed their house, too. They'd worked with Jonathan Smith from Matter Architects before and knew he could interpret their brief well.
"I love bungalows," says Grant. "We really wanted to keep that character."
They kept the graceful bungalow facade, accentuated with cedar shingles. A generous north-facing deck cascades down to the front lawn.
The covered outdoor area references the traditional front porch with its pitched tongue-and-groove ceiling.
The re-build delivered what's typically missing in old bungalows - light, space and storage.
Plus they insisted on comforts that Europeans take for granted - insulation, double-glazing and ducted heating.
Despite the generous, open plan and walls of sliding windows and doors, Grant marvels that their power bill is less than previous houses half the size. The open-plan living and dining space is bathed in all-day sunlight, with sliding doors to the covered deck.
The tongue-and-groove cathedral ceiling echoes the outdoor porch, while the gas fire adds night-time ambience.
A cosy media room backs on to the fireplace, displaying another bungalow remnant: an original stained-glass window.
The couple call it a hospitable house. "We can kick our shoes off and relax in front and slide the door shut on kids watching DVDs next door," says Grant. Pavlina and Grant both love to cook, so the kitchen got a lot of attention.
They love the textured granite wrap-around counter on the huge central island.
"It's almost like wood-grain," says Pavlina. "We call the chalked-oak cabinets the Nola design."
Cooks' essentials include the Miele appliances and the butler's pantry opening to the entrance hall, making it easy to unload groceries.
"We love New Zealand design," says Pavlina, pointing out light fixtures throughout the house from David Trubridge and Douglas + Bec and the handmade tiles from Middle Earth.
A colourful wallpaper from Paper Room terminates the sky-lit hallway a few steps up from the living area. A glamorous red-tiled powder room is Pavlina's girlie touch. "If all those boys get too much, I can lock myself in here," she says.
They chose over-sized Italian tiles for the spacious family bathroom and en suite. Grant calls the master bedroom's walk-in closet "the world's biggest wardrobe", and the generous storage continues in three more double bedrooms. Morning sun pours into the master bedroom, although Grant specified dark blinds for lie-ins.
The wide hallways sport more storage and a huge laundry opens to the efficient backyard, where clever terracing has created room for raised vege beds and fruit trees. That huge front yard might be treasured, but the country tennis court is calling them now.