371 Linwood Rd.
SIZE:
Land 5.1718ha, house 320sq m (approx).
PRICE INDICATION:
CV $1.325 million. Auction September 8 at 11am on site.
SCHOOL ZONES:
Karaka School, Rosehill College.
CONTACT:
Lynn Lockhart, Harcourts, ph 027 535 4024.
FEATURES:
Large, solidly constructed, single-level family home on a well-cared- for 5ha lifestyle block. With an enclosed three-bay implement barn, post-and-rail fences, ample water and lush grazing pasture, this is a property that lends itself to hobby farming, equestrian pursuits or just easy country living.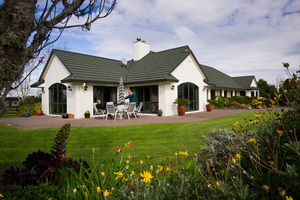 371 Linwood Rd, Karaka. Photo / Ted Baghurst
Daffodils in the front paddock, a wetland teaming with birdlife on the rear boundary and the seemingly impossible green of the lushest of Karaka's fertile rolling pastures in between, this is a lifestyle property that simply cries out for children on ponies, a family dog and contented parents in the gazebo.
Lois and Robin Gimblett have no ponies or dogs and their children are grown but they simply love the home they have created since buying it off-plan in 1997. "It might seem rather large for just the two of us," admits Lois, "but it is such an easy property to look after, it doesn't seem too big at all. We enjoy our space, and Robin always loved the idea of being a hobby farmer, so this has worked very well for us throughout the time we have been here."
During that time the Gimbletts have turned the brand new house into a comfortable home, along with landscaping the bare paddocks into what is very nearly park-like perfection. Eleven contented yearlings keep the grass under control and birdsong fills the air, even in the depths of winter.
From reading the plans, Robin and Lois could see the house offered everything they wished for in terms of size and layout. With four bedrooms, two bathrooms and an easy connection between the formal living and dining rooms at the front and the more casual family spaces grouped around the kitchen at the rear, no more than a few minor modifications to the plans the builders were working to were required to make it feel truly their own. "I think we might have changed the position of a window but no more than that," remembers Robin, "but it's such a comfortable house we would take it with us on the removal truck if we could. If we were building again we would build exactly the same. Wouldn't change a thing!"
High praise indeed, but it's easy to see why Robin and Lois enjoy their home so much. High ceilings, wide hallways and even the smallest of the four bedrooms a generous double, it is an easy home to love. Heating in all rooms (from an open convection fireplace in the formal lounge, to a wood burner connected to a heat exchange unit in the family room, under-floor heating in the tiled areas and electric wall heaters in the bedrooms for instant heat), it is clear the Gimbletts were taking no chances with the cold weather getting to them. Good cross-ventilation takes care of the summer heat as well while the solid block construction and insulated cavities means bills stay low no matter what the weather.
Lois loves the size of the kitchen with its black granite counter tops and large array of cupboards. "It is as well-planned as the rest of the house. Whether it's just cooking for Robin and me, or the whole family assembling, I find I always enjoy being in it. I love being able to look out over the land at the back and see how much we've developed it over the years. We spend most of our time in here."
Down the hall that leads off the high entrance lobby are farmhouse-sized utility areas and an array of large bedrooms, culminating in Lois and Robin's master suite. As expected in a house of this size, the bathroom and walk-in wardrobe here are more than generous, as is the family bathroom on the opposite side of the hall from the bedrooms it services.
Robin and Lois are moving north to be nearer family and a new grandchild but admit it will be a wrench leaving both the area and the house they love so much. "We've lived round here for 28 years, 15 of them in this house," says Lois. "We'll miss it but we've made the decision that the time is right for us to move on."