30 HUKANUI CRES, HERNE BAY
SIZE:
Land 403sq m, house 278sq m.
PRICE INDICATION:
Interest is expected above CV of $1.83 million. Auction August 19.
INSPECT:
Sunday 2-2.40pm.
SCHOOL ZONES:
Bayfield Primary, Ponsonby Intermediate, Western Springs College.
CONTACT:
Pene Milne, Premium Herne Bay, ph 021 919 940 or 361 0456.
FEATURES:
Modern home with pavilion-style living opening on all sides to garden, designed by David Ponting. Two living areas, ground-floor guest bedroom/office, powder room. Underfloor heating, gas fireplace indoors and out, mezzanine library.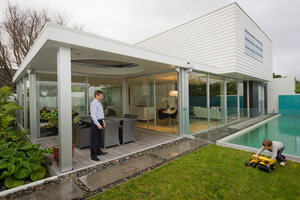 First impressions have been lasting impressions for Andrew and Jane Petersen.
"That great first impression has never really gone," says Jane. "I remember walking in here and thinking that this was such an amazing space and then looking through to that turquoise wall of the pool.
"That's something I think about every time I walk in here, how we just loved the whole look of it all."
That first step through that lofty, glossy white front door was a little over four years ago, and perfectly on track with Andrew and Jane's expectation that this new home would be their "four- or five-year" home.
Both lawyers, they had moved here from a terraced house in Epsom. Since then Jane has happily put her career on hold to be a stay-at-home Mum to Finn, 3, and Fergus, 10 months, and being able to do so in a home that is elegantly simple in its form has made it all the more pleasurable.
Their home is down a driveway in an enclave of modern homes in a long established street, and it was designed by David Ponting, a director of Ponting Fitzgerald.
Of its contemporary elegance, he says "It is basically a black box with a white box on top and a pavilion added on to it".
The black element is the dark naturally coloured zinc that is both the exterior cladding of the double garage alongside the entrance, and the interior feature wall that is the ground floor spine of the house on either side of the central staircase.
On the outside, the strong vertical detail of the zinc counter balances the horizontal lines of the customised 35mm-thick weatherboard cladding used on the upper storey. These weatherboards were laid with a deeper overlap to create the negative detailing that is a popular feature of contemporary homes.
The pavilion is the family's main living area, with the subtle, expansive all-white kitchen as its backdrop. The entire ground space is underpinned by solid American oak flooring that is repeated in the stairs up to the master bedroom and the children's bedrooms.
Unlike conventional homes where the internal walls define each room, this entire living area has floor-to-ceiling glass walls and sliding doors, the latter of which open up so that the garden walls beyond the palms, the river stones and pavers and the large covered deck and lawn area form the boundaries.
Says Andrew: "It is certainly a very nice place to come home to." Throughout, there is abundant space for everyone, for young Finn and his trucks and toys and for Andrew and Jane to relax with their friends.
The Cronin-designed kitchen features a seamless white Corian bench and moulded sink. Behind, a multitude of functions are concealed by discreet doors including the scullery with a sink, and a workstation for paperwork, phone chargers, television remote controls and the other accoutrements of modern family life.
This home, with a big deck and its motorised, adjustable louvres, has given this young family a sunny and safe lifestyle with total privacy. It has also given them a fresh perspective on living in harmony with the outdoors.
Now they are looking for a bigger outdoor experience. "We need somewhere with a bigger back garden," Jane explains. She's picturing a vege garden, a trampoline, space for a sandpit. "We'll be driven by the garden space this time because that's what we need."