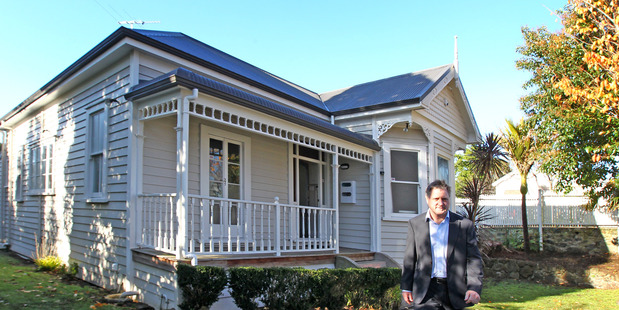 16 CRICKET AVE, 12 CRICKET AVE, 16 RALEIGH ST, MT EDEN
Securing the future of Eden Park meant a foray into the property market for Eden Park Trust.
To allow for any possible expansion and/or redevelopment of the ground, the trust has bought a number of nearby properties over the years - either when they came on to the market or by door-knocking the owners. As the trust's CEO David Kennedy explains, "We have accumulated properties over a long period of time because the final form of the redevelopment wasn't known and we wanted to have the flexibility to redevelop the ground as best we could."
Having those properties became even more important when New Zealand won the rights to host last year's Rugby World Cup and Eden Park was named as the finals venue for the tournament. More than $250 million was pumped into the ground to lift its capacity to 60,000 courtesy of a new southern stand and some temporary seating. New gates and a concourse were added. That makeover will also come in handy when the ground, which has a standard capacity of 50,000, hosts some games during the Cricket World Cup in 2015.
Eden Park's redevelopment is almost complete, with just the No2 ground to be readied for domestic cricket this summer and some landscaping to be completed behind the eastern stand, which will also get a curved, transparent acoustic screen that will contain crowd noise and integrate the stand with the rest of the stadium.
With Eden Park now in its final form, the trust is selling off three of its properties that are surplus to requirements to help pay down some debt.
The three villas have been tenanted from the time the trust bought them - since 1996 in the case of 16 Cricket Ave and 16 Raleigh St, and from 2004 for 12 Cricket Ave.
"It's a popular area to rent and these houses have always been well sought after and get a good return but being a landlord is not a core part of our business," says David.
The Cricket Ave villas were built in the early 1900s while 16 Raleigh St dates from the 1880s.
All the weatherboard homes have character features and are on reasonably large sites with room for off-street parking.
The Cricket Ave villas have polished kauri floors and fireplaces, with No16 the most comfortably appointed and having a wrap-around deck at the rear.
No12 has been divided into two two-bedroom units, each with their own bathroom and courtyard.
Set back from the street, 16 Raleigh St is the house that is most in need of renovation.
All the homes would make solid rental investments as is or provide new owners with some renovation upside in what is a quiet neighbourhood when it isn't game day, which happens up to 25 times a year.
WHAT'S AVAILABLE:
12 CRICKET AVE - 157sq m villa divided into two two-bedroom, one-bathroom units on 582sq m. CV $770,000. Inspect Sat/Sun 12-12.45pm. See raywhite.co.nz/EDN21115
16 CRICKET AVE - 119sq m three-bedroom, one-bathroom single bay villa on 622sq m. CV $810,000. Inspect Sat 12-12.45pm. See raywhite.co.nz/EDN21116
16 RALEIGH ST - 124sq m four-bedroom, one-bathroom villa with single garage on 607sq m. CV $690,000. Inspect Sat/Sun 12-12.45pm. See raywhite.co.nz/EDN21117
All homes auctioned on August 9 (unless sold prior).
SCHOOL ZONES: Mt Eden Normal School, Kowhai Intermediate, Mt Albert Grammar, Auckland Girls' Grammar
CONTACT: Diane Goer, Ray White, ph 639 0088 or 0272 417 297.