2 Paihia Rd, Bay of Islands.
SIZE:
Land 2004sq m, house 550sq m (including decks and garaging).
PRICE INDICATION:
CV $2.15 million. Deadline sale closes 2pm, August 23.
INSPECT:
Sat July 21, 1-2pm, Sat July 28, 2-3pm.
SCHOOL ZONES:
Paihia School, Opua School, Bay of Islands College.
CONTACT:
Sandra Peters, ph 021 456 111, Esmae Farrington, ph 021 407 323, Bayleys.
FEATURES:
Recently built classic villa overlooking the water with beach below.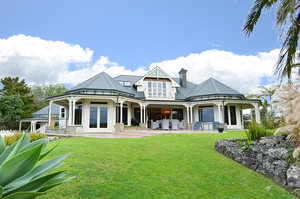 Most people who live or travel frequently in the Bay of Islands know the home of Rachel and Richard Gradowski Smith.
It sits on a promontory just a few kilometres south of Paihia, looking as if it's been there for about a century, although it was only built in 2000. It's a large, elegant building in the style of a classic weatherboard villa, and as you drive along the waterfront you simply can't miss it.
It certainly stood out for Rachel and Richard when they saw it advertised for sale more than a year ago.
They weren't really looking for a holiday home but the house, the gardens, the setting and the views impelled them to the Bay of Islands to take a look.
"We thought it was stunning when we saw the ad, but when we actually got here it was so much more than we expected," Rachel says.
And the house has continued to thrill them. The couple, their two boys and two dogs have enjoyed every opportunity to come here, making great use of the beach below, where there's a purpose-built beach hut ideal for overnight adventures.
It's a short walk away - down a stepped path from the house - and they've all enjoyed sunny days jet-skiing and paddleboarding down here. It's also a good spot to launch boats.
Despite its grand scale, the main house feels relaxed and welcoming. Subtle, buttery colours have been used in the living areas, which curve around the front of the house and open on to multi-level terraces overlooking the sea.
The living area floor is coloured concrete, which adds to the casual atmosphere, and Richard and Rachel have furnished the space with character timber pieces and big leather sofas.
"It's fantastic for entertaining because it's really well laid out," Rachel says, pointing out the butler's pantry which, she says, is perfect for hiding everything you don't want guests to see.
The kitchen has rich, timbered floors, Carrara marble surfaces and timber cabinetry paint-washed in a serene pale green.
It curves around the perimeter of the dining area, a few steps below, which allows both rooms to look out on the bay views.
The curve is repeated in the magnificent timber stairway that sweeps up to a grand master suite with sitting area, dressing room and luxurious bathroom. The bed is positioned on a dais to capture the best of the views. Also upstairs is the boys' bedroom, which, while spacious and with its own bathroom, has the feel of a secret attic for a couple of young adventurers.
Rachel particularly likes the downstairs guest rooms either side of the living area. Both are sun-filled and open on to the terrace. "It's very clever the way the bathrooms are positioned behind the beds, with an open window space to give them access to the view."
Although the sea always takes centre-stage, the landscaping also provides beautiful views, with well-planned, low-maintenance garden areas. There are lawns, crafted stone walls, stone-edged ponds and secret sitting spots right above the water.
The only thing missing for the family is space for horses. Half an acre may be the perfect size for this home, but it's not enough to accommodate the couple's passion for horses, so they're looking for a country estate.
"I want to breed some horses and the plan is to bring in some select mares from Europe," Rachel says. "So we're looking to establish a larger equestrian property to do that. When that's all in place, it'll be a new way of life."