16 STACK ST, HERNE BAY
SIZE:
Land 594sq m (approx), house 269sq m (approx).
PRICE INDICATION:
CV $2.35 million. Auction July 5 (unless sold prior).
INSPECT:
Sunday 2-2.30pm or by appointment.
SCHOOL ZONES:
Bayfield Primary, Ponsonby Intermediate, Auckland Girls' Grammar, Western Springs College.
CONTACT:
Jan George, ph 0274 784 119, or Simon Smith, 0274 921 698, Ray White Ponsonby.
FEATURES:
A large, well-loved transvilla, situated in one of Auckland's premier streets, has been in the same family for 54 years. Contains many original features and configured as three legal flats. Several off-street carparks.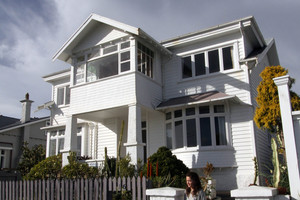 16 Stack St, Herne Bay. Photo / Geoff Dale
When a house stays in the same hands for more than half a century it's obvious there's something pretty special about it.
Myra Lawrie, who lived in it until her death aged 89 in 2010, didn't need 54 years to convince her. According to her daughter, Kay, she knew it was the house for her and her growing family the moment she saw it.
"She told me, 'I'll do whatever it takes to have that house'," and with the help of loans from the family as well as the bank, she and her husband Tom, plus children, moved there in 1958. A series of boarders was another money-earning strategy while the family was young, and when Myra returned to work in the mid-1960s the house was configured into the three legal flats it is today.
Kay remembers sleeping in what is now a sunroom on the upper floor as a child, and lying in bed counting the cars crossing the then-new Harbour Bridge.
"There weren't the big trees there are now and I never needed sheep to help me sleep.
We took the lovely location for granted then as children do. It was very quiet and we could hear the sea when the wind was in the right direction, but never a car."
Granddaughter Charlotte Cull has carried on the family love affair with this grand old lady of a house. She has lived in the top flat since her grandmother's death. "This house and everything about it is so woven about with my grandmother's life that it's been a pleasure to be here," she says. "I've never known a time when it wasn't in our family and it's a part of all of us."
But while the changing of the guard in houses like this is always tinged with sadness, thanks to Myra and Tom's foresight the house never lost many of its graceful period features. Chief among these are the beautiful fibrous plaster ceilings on the ground floor, with their motifs of fern and trailing greenery. Even when the downstairs flats were created, great care was taken so the new walls did not touch the ceilings, and so when they were removed in a later incarnation of the same flats no damage was done. Likewise, the original kauri floors are still there and the balusters retain the Arts and Crafts motifs that are so clearly an indication of the era in which it was built.
Apparently the same builder built three of these houses, all at the same time and all similar in design. Over the years all have been modernised and worked over as the neighbourhood went through its various ups and downs. Once of the more recent "ups" was when the Sultan of Brunei went on a buying spree in the 1990s to buy as many of the houses around his home as he could - one of the grandest mansions built in the 1980s, Waimanu, is over the back fence.
But while the Sultan did not remain in the neighbourhood, Myra's tenants stayed on. Consequently, even the long-rented part of the property has not suffered.
Charlotte and Kay know it is unlikely that the home will stay in its configuration of three flats, but all they wish is that whoever buys it will value it the way they have done.
"It's such a lovely house," Charlotte says. "We know it will find someone who appreciates the spirit of it as much as we have done, even if they make the changes we expect they will."