47 HACKETT ST, ST MARYS BAY
SIZE:
Land 144sq m, house 200sq m (approx).
PRICE INDICATION:
Upwards of CV $1 million. Auction July 11.
INSPECT:
Sat/Sun 1-1.30pm.
SCHOOL ZONES:
Ponsonby Primary, Ponsonby Intermediate, Western Springs College.
CONTACT:
Carl Madsen and Steve Miles, Barfoot & Thompson, ph 021 953 152 (Carl), or 021 988 440 (Steve).
FEATURES:
Character French-style town home with expansive deck and views. Separate lounge, four bedrooms, garaging *plus additional secure off- street parking.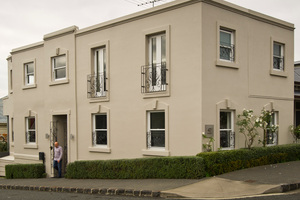 The former students of St Mary's College probably wouldn't recognise the old Point Erin dairy today. Where a weatherboard cottage once sold after-school icecreams, there now stands an elegant French-style townhouse. The transition was only half complete when Peter and Raewyn Jacobs bought it a decade ago.
They'd been looking for an apartment close to Peter's Westhaven business, Ovlov Marine. Friends spotted the former dairy and thought it would be ideal. A 1990s renovation had added half a storey and re-clad the old building, but a quick glance confirmed their friends' opinions. "I can see work from here, nip home if I need to, or we can wander round the bays for a swim," says Peter, who adds his mates reckon the new Jacobs Ladder footbridge at the bottom of the street was built to enable him to cycle home from his favourite Swashbucklers restaurant.
Peter and Raewyn did create that clever urban apartment, but sadly Raewyn's recent stroke means the three-storey house is no longer practical. In 2006, they managed to get planning permission to extend the awkward top floor the full width of the site, creating almost self-contained living on the top level.
The corner site means sun pours in from the north, while they can nearly touch the yachts on Westhaven Marina from the side deck that can never be built out. "The view over Rangitoto is perfectly angled to catch the sunrise," Peter says, his proof a spectacular photo from last winter's solstice.
Even if you miss the sunrise, the upstairs living area is focused on the view. The extra floor area meant Peter and Raewyn could add a casual living area and deck to the existing dining and kitchen spaces. The new kitchen revolves around a marble island counter that includes a handy bar fridge - "it's seen a few nights", Peter notes. On big game nights, Raewyn commandeers the upstairs, while Peter and his mates retire to another living area downstairs.
On the same level, the master bedroom nearly doubled in size when the old sloping roof disappeared. "I was inspired by Juliet balconies in France," says Peter, who replaced old windows on the north face with romantic French doors and delicate wrought-iron railings. They also managed to expand the master bathroom and walk-in wardrobe, including a sewing area for Raewyn. A guest toilet is another addition.
"I designed the stairwell to let in the light," says Peter of the glass balustrade supporting a sturdy stainless-steel hand-rail. The front door is in its original position on the street. Like the original shop-front - now enclosed with sash windows - it is protected by romantic wrought-iron screening. The former shop housed Raewyn's naturopath practice, with a fully renovated bathroom complete with spa-bath. Another office (or double bedroom) is nearby.
The couple were grateful for the third downstairs bedroom with its en suite, when their son moved home for a while. "It gave us each our own space," says Peter. "Great for visitors, too." That suite shares a small deck with the living area, which Peter favours on game night. A flued gas heater on this level warms the whole house, with a bayonet on the upper floor, too.
Another level down is a single garage with a gated off-street car-park and a laundry, workroom and storage. "It's such a quiet street with Curran St blocked off," says Peter, "but we're so close to everything we love."