14/79 Beresford St West, Freemans Bay
PRICE INDICATION:
CV $460,000 (July 2011). Body corporate fees $3586.12 pa. Auction June 27 (unless sold prior)
INSPECT:
Sat/Sun 1-1.30pm.
SCHOOL ZONES:
Freemans Bay School, Ponsonby Intermediate, Auckland Girls' Grammar, Western Springs College.
CONTACT:
Robyn Ellson, Custom Residential, ph 360 4866 or 021 800 891.
FEATURES:
A two-level apartment in the centrally located 1960s Freemans Park development. Includes open-plan kitchen-living-dining opening to a balcony and views melding greenery and cityscape.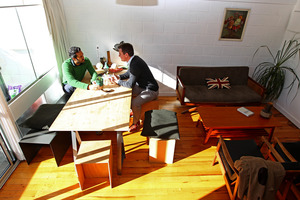 Director of Sky News NZ Alistair Wilkinson chose the modernist vibe of a central sun-trap apartment in Freemans Park when he took his first step on to the property ladder five years ago.
Alistair took up his news director role last year, having previously become a face familiar to many as a presenter on TV3's weekend news and a report for 60 Minutes.
"I feel very fondly about his place," he says, explaining he's rented it out for the past few years since buying another property with partner Russ Flatt. "Freemans Park has a very interesting history. And it's where I lived, where Russ and I met, first spent time together and lived together."
Freemans Park is the name of the modernist housing precinct in park-like grounds which was considered to be a break-through in urban housing design when the council created it as public housing in the 1960s.
"There are lots of apartments around Auckland but few that have strong character and a strong history like these ones," says Alistair. "It represents a particular time in our social history and a particular idea about what public housing should be - that everybody deserved to live close to the city yet be in park-like grounds."
Alistair had previously rented in the complex so knew he liked the solidity of its concrete block construction and the little community sharing the grounds. "A developer would never build like this in these grounds today; they'd put everything closer together."
He likes the diversity of residents, which include architects, journalists and artists now the precinct is largely privately owned (but still retains some ownership by organisations such as Housing New Zealand). Alistair bought in a northeast-facing block at the end of Beresford St West. It's close to the lower end of Western Park, Auckland Girls' Grammar and Freemans Bay School. The apartment has its own allocated carport. The block has upper and lower apartments, which are all two-storey, and Alistair has an upper one."I liked the strength and simplicity of its design."
He met Russ (now a freelance photographer) not long after the purchase. They renovated, stripping away paint and shag-pile carpet to highlight clean lines and original features such as the native timber floors and staircase.
Entry is via the kitchen-living-dining, opening to a balcony. The view is three-quarters greenery and includes the Sky Tower and Harbour Bridge. Russ spent years living in New York eyeballing other buildings, so is understandably fond of the outlook. "It's lovely sitting out there having dinner in the summer-time. All that greenery ..."
The galley kitchen culminating in a laundry/storage area is largely original. A double-height atrium introduces the stylish 60s stairs up to a simple bathroom and two good-sized bedrooms with built-in wardrobing. The second bedroom has a view over Western Park.
Guests loved the apartment's location, just down from Ponsonby Rd, 15 minutes' walk from the city and next door to a tennis court.
The couple had many friends in the area and loved not having to drive everywhere. When they bought a place in the Waitakeres and grew their family unit with dogs Quinn and Tiki, they rented this apartment out (at $450 a week, but it could achieve more).
Then Alistair's new role at Sky brought more commuting and overseas travel so they rented that house out too, leasing a central apartment which includes studio space for Russ' photography. Now their plan to buy another home sees them farewelling Alistair's original apartment - with more than a touch of nostalgia.