80B Bassett Rd, Remuera
SIZE:
Land 1070sq m, house 210sq m
PRICE INDICATION:
CV $1.6 million, Auction June 20 at 6pm (unless sold prior)
INSPECT:
Sat/Sun 2-2.30pm.
SCHOOL ZONES:
Remuera Primary, Remuera Intermediate, Newmarket School, Epsom Girls' Grammar, Auckland Grammar.
CONTACT:
Heather Walton, Ray White Remuera, ph 021 432 167.
FEATURES:
Renovated 1980s house with high ceilings, city views and multiple decks in private setting. Sunny garden includes a stream, flying fox, chalkboards, a workshop and a salad.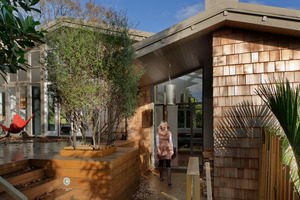 Joanna Smith discovers a contemporary home designed to capture the sun.
Nestled behind Remuera's stately character homes are some more contemporary houses in tree-lined gullies. After selling their first Auckland renovation three years ago, British architect Stas Louca and designer Leslie Renfrew were delighted to find their 1980s house. "It was a bit tired," Stas recalls, "but it had the fundamentals - a clever house designed by a clever person."
He's referring to the incredible private setting and sunny layout that cascades down the hill, with the pitched roof and transom windows referencing a mid-century Californian style. Every room offers a different view into a large collection of nikau palms. He and Leslie travel a lot for work and love coming home. "It's our piece of heaven in the city - it cheats the senses when we are so close to town," says Stas.
The first task was to lighten the interior and connect it to the outdoors. A series of eco-friendly Vitex timber decks follow each level of the house.
"It's great for sun worshipping," says Stas, "we move from morning sun in front, to afternoon on the raised deck, to late afternoon down by the stream." Each deck is an outdoor room among the trees, framed by timber slats or dark-painted panelling (doubling as a massive outdoor chalkboard for son Max).
Inside, the original architect captured the light with clerestory windows and skylights. Stas and Leslie whitewashed the timber ceilings so that light now bounces through the spaces and used a dramatic blue-grey hue (called Gravel) as a foil to the wood and greenery outside.
With young Max and teenager Lindsay (who has now left home), the couple were looking for a family home. The connected-but-separate levels of this house provide spaces for multiple generations. "Everyone has their own space when they need privacy," he says.
However, like most families they inevitably cluster in the kitchen and dining area at the top level. The soaring sunny space is anchored by dark tiles, and opens to the generous entrance deck. A wall of storage conceals one of three studies - this one is Max's homework base, near the cook. A back door accesses the garage above, with handy laundry and toilet.
A slender skylight brightens the central circulation spine, above stairs linking the entrance, living areas, and bedrooms below. Near the front door, a timber-floored room was once a dining room, with an adjacent study. An upholstered nook is one of several spaces in the house to hide and contemplate ancient trees.
The sunny living room opens on to another deck overlooking the gully, with views across the city. A log fire adds ambience, although the efficient central heating system warms the whole house in minutes.
The open living spaces yield to more enclosed sleeping areas. Leslie's research revealed that bodies relax with darker colours, so bedrooms are also painted in Gravel. The master bedroom has views across treetops and a window seat to soak up afternoon sun. Off the dressing room, a remodelled bathroom is also set among the trees.
Stairs wind down past another nook to the youngsters' domain on the lower level. Stas has commandeered one room for an office where he can stroll out to the deck. Two more generous bedrooms - including a small boy's dream bunk room - share the remodelled bathroom, this one with designer bathtub under another nikau palm. Outside is a flat lawn and more steps winding down to the stream, a fort-building paradise for Max and mates, overlooked by that late-afternoon sun-deck.
"It's too much house for only three of us now," Stas says, "and it needs another family to make the most of this tranquil paradise."