67 Vale Road, St Heliers
SIZE:
Land 899sq m, house 306sq m.
PRICE INDICATION:
Interest expected above $1.9million. Expressions of interest close 4pm, June 14 (unless sold prior)
INSPECT:
Sat/Sun 1-1.30pm.
SCHOOL ZONES:
St Heliers School, Glendowie College.
CONTACT:
Steve Williams, Ray White, ph 520 7669 or 027 295 6153
FEATURES:
Gracious, spacious and comfortable with formal and informal living. In-ground pool on a flat section.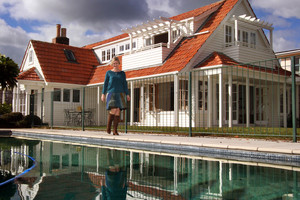 Extensive renovations have retained the grace of this 1930s property, writes Cate Foster.
Built as a gentleman's residence in the 1930s, Tracy and Ian Porteous' former home has retained its sense of time and place.
Having relocated to Ian's family home in Christchurch, the couple has decided to sell the distinctive house with its traditional terracotta tiled roof and narrow weatherboards.
The previous owners worked in collaboration with leading architect Simon Carnachan to modernise and extend, adding a family room and kitchen in the large rear garden with exactly the same multi-paned native timber doors and windows as the original formal living room alongside. This has been done so sympathetically it takes a second look to decide where the original house stops and the new extension begins.
Tracy puts it into just the right words. "It's not until I've come back to visit that I realise how graceful this house is. It also has that certainty of its place in the world which is not at all overt but it's there nonetheless.
And the alteration and extensions that had just been finished before we bought it in 2004 just worked with this and made it better."
The original house would always have been a pleasant family home with a formal sitting room and two bedrooms downstairs plus more upstairs. Both the downstairs bedrooms connect on to a covered balcony and porch that overlook the front garden and the oak tree on the lawn.The house has six bedrooms in all which the Porteous family did not need, so they used one of them as the den for the children and the other as a guest room.
Upstairs are four more bedrooms, three of them original. The one at the front is particularly pretty with what would have been a nursery porch enclosing the front of it. The secondary one behind it has a large gabled playroom off to one side, and even better for the child who scores it, a Harry Potter cave under another gable. Of course, this is wonderful storage if the wizard could be evicted. These three bedrooms have a bathroom to service them while the master bedroom to the rear has its own en suite, along with walk-in storage.
This master suite is built above the family room extension. In order to retain the original roof line it has a pitched ceiling, lined with painted tongue and groove. This is another example of how the 2003 modernisation was carefully married to the original aesthetics of the house, while never compromising on the comfort of contemporary design. Tracy says "it's the most peaceful room you can imagine".
A glimpse of St Heliers Bay from the en suite and a balcony with its own pergola out over the rear garden are features Tracy misses now she is in Christchurch.
"I look around here and realise I took it all for granted in a way. Now I know I never had it so good. It is simply such an easy house to live in, and if it's easy for the Mum, it's easy for the family."
But this home is for sale as the family have resettled in Christchurch. "We're looking at this time in our lives as a new era," laughs Tracy. "We divested ourselves of 1.6 tonnes of stuff to make the move, and we're really enjoying living more simply. We might eventually build something new but, at the moment, it seems just the right thing to be doing."