88 SEACLIFFE AVE BELMONT
SIZE:
Land 1088sq m, house 480sq m
PRICE INDICATION:
Price guide $6.5m. Expressions of interest close June 14.
INSPECT:
By appointment only.
SCHOOL ZONES:
Bayswater School, Belmont Intermediate, Takapuna Grammar.
CONTACT:
Lewis Guy, Premium, ph (09) 9164394 or 021 867 355
FEATURES:
Nearly new architecturally designed clifftop home on a large site at Belmont. Private beach access sea views from all three levels.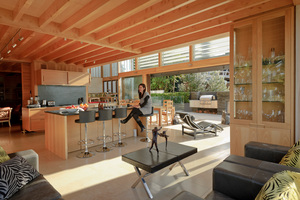 A sleek beauty on a North Shore clifftop will steal your heart, writes Bronwyn Sell.
The first that US-born Melissa knew she'd bought a clifftop house at Belmont, on Auckland's North Shore, was when her husband pulled over the car to take a phone call when they were in Austria.
It was his father, confirming they had secured the house. "I didn't even know that he was looking at it," she says.
The couple, who were then living in an apartment in New York, had talked in hypothetical terms about eventually moving back to his roots in Auckland. When his Shore-based family found the property, an older house on a quarter acre section with water access and an uninterrupted view across to Rangitoto, he bought it on the strength of their enthusiasm and a few photos on the internet.
The couple rented it out for a couple of years, then, in 2005, serendipity got him a work transfer to, of all places, Auckland.
The property that had been merely a good investment was suddenly potentially a great family home. By then they had a toddler and a new baby, so they decided to remove the small existing house and build a home that would cater for them throughout their family years. By the time they moved into the new house, their third child was 3 weeks old.
On the recommendation of a Christchurch architect friend, they engaged Guy Tarrant and Marshall Cook to do the design.
"Because we have young children, there were certain things we wanted," says Melissa.
Chief among them was to have all the family's bedrooms on one level, and to have a pool. Also, they wanted a private guest suite to accommodate relatives from the United States, and they were keen on a high-ceilinged design that would take advantage of the "stunning" views, says Melissa.
The architects came back with a three-level blueprint that stepped down from the road. At street level were the four family bedrooms, all with views.
Stepped down from that was the living area. The space created by the soaring double-height ceiling was emphasised with plenty of glass, and a tonal colour scheme of white-washed and golden wood and light-coloured stone floors.
It was an open-plan design that would catch all-day sun, with hidden sliding doors to create separate spaces for the kids to play in and the adults to retreat to. Even the kitchen could be hidden.
Melissa says the north-facing outdoor area, with its pool, fireplace, pizza oven and view over the water, is her favourite part of the house.
"It's such a great place to have friends over and sit outside around the fire, and look at Rangitoto. It's quite beautiful."
On the lowest level is the separate guest suite, opening on to a grassy lawn, from which they could pop down a private staircase to the beach. From here, Melissa has been known to jog right up the coast to Murrays Bay.
The architects were fond of using natural materials to create a tactile quality in the homes they designed. One of Melissa's favourite aspects of the house is the Isernia limestone that was honed smooth for interior use and brushed and roughed up for safety and a tactile effect outside.
Despite their intentions to raise their children in the house, work has since pulled them away again, this time to Australia. They moved transtasman three years ago, and it's taken them this long to get their heads around letting the dream family home go. "It is hard [to let it go], when you spend two years of your life building something you love," says Melissa.