37 REIMERS AVE, MT EDEN
SIZE:
Land half-share in 753sq m (more or less); house 120sq m (approx.)
PRICE INDICATION:
CV $700,000. Auction May 27 at 1pm on site.
INSPECT:
Sat/Sun 12-12.45pm; Tues 12.15-12.45pm.
SCHOOL ZONES:
Balmoral School, Kowhai Intermediate, Mt Albert Grammar, Auckland Girls' Grammar.
CONTACT:
Blair Watson, Kellands Real Estate, ph 021 502 930.
FEATURES:
*OFF-STREET CAR PARKING. Renovated bay villa with wraparound veranda next to Eden Park. Open-plan living with heat pump, HRV system and working fireplaces.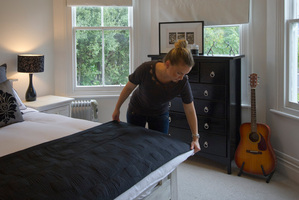 Like many Australians, Warriors player Micheal Luck and wife ToniLee aren't that impressed with the Auckland weather, but they love the city's character homes.
And that's what drew them to this bay villa when it came up for sale about a year ago.
"We were living in a three-level apartment in Grey Lynn at the time but when ToniLee started getting a bit bigger with a baby on the way we thought we'd better get back to one level," says Micheal. "We were actually thinking of renting but thought we'd come along to the auction for a look and ended up buying it."
ToniLee says Auckland's villas are reminiscent of the classic Queenslanders of her home state with verandas and high studs but with more interesting and ornate joinery.
An ideal spot for rugby fans, the home is across the road from Eden Park, which means Micheal has come in for a bit of stick from staunch leaguies at the Warriors. He says the upside is that the street and footpaths were upgraded for the World Cup and there's always plenty of security around on game night.
ToniLee says the fact that their home looks out to the ground's southern stand is a source of amusement when guests turn up. "When we tell people coming to visit that our house is across the road from Eden Park, they turn up and say, 'Yeah, it really is across the road from Eden Park."
Although the home was renovated previously and made open-plan, the Lucks have made some improvements such as sprucing up the main bathroom and introducing some new light fittings. They also had the exterior repainted in more traditional villa colours - as opposed to its previous lime green - and created a more neutral colour scheme inside in a home that had red, green, and yellow ceilings. An HRV system and heat pump keep the home warm and dry for 8-month-old son Murphy, whose bedroom has also been insulated.
Beeswax has been used on the re-sanded kauri floors, which have a pale honey colour that adds to the sense of light and space in the home.
At the front of the house are two bedrooms, including the master, which has an en suite. Murphy's room is down the hallway and then you enter the open plan kitchen and living area that opens to a deck at the rear.
Off the kitchen, which has stone benchtops, is a guest toilet and laundry at the rear and behind it the main bathroom, complete with bath - something that was a must for ToniLee with a baby on the way.
Fireplaces in one of the front bedrooms and the lounge are still in working order although the Lucks haven't needed to use them. A door from the lounge opens to the wraparound veranda.
When it comes to footy, it's been a tough year for Micheal, who is renowned for his workaholic attitude in the forward pack and commitment to playing every single minute of a game. He has yet to take the field this year after injuring his hand in the Warrior's grand final loss to Manly last year but expects to be back within a few weeks. Balancing that frustration is the fact he has had time to spend with ToniLee and Murphy, and get a few jobs done on the house.
Although Micheal doesn't leave the Warriors until the end of the season, he and ToniLee are selling up now to simplify the shift back to their hometown of Townsville. Leaving it to the end of the year would be problematic if the Warriors again produce a stirring run in the finals. And there will be a lot of Warriors fans hoping that is the case.