87 Stanley Point Rd Stanley Point
SIZE:
Land 1002sq m, house 240sq m.
PRICE INDICATION:
CV $2.4 million. Tender closes 4pm, November 10, unless sold prior.
INSPECT:
Sun 1-1.45pm or by appointment.
SCHOOL ZONES:
Stanley Bay Primary, Belmont Intermediate, Takapuna Grammar.
CONTACT:
Lynda Betts, Bayleys, ph 487 0711 or 021 2783 024.
FEATURES:
Unique setting, heritage-listed home that has had only one family owner since new in 1939. Four beds, two bathrooms and close-up harbour and city views.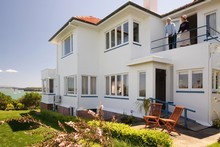 Oh my gosh! There are no other words for it. Here is a location which has views across the Waitemata, including a bird's-eye view of Auckland's CBD and the Cloud, from a knock-out position on the North Shore.
The address in one of Auckland's most desirable suburbs is among the best. But the street address is only part of it. This house is actually on the point of Stanley Point and, as such, can never be built out or overshadowed. It is, without exaggeration, one out of the box.
So thought Stuart Orr, the father of Jim Orr and Alison Williams, when he found what was then empty land in 1937. Jim remembers the family story of how "he saw it, fell in love and moved heaven and earth to buy the section for £250. He lived in Kohimarama at the time but buying this and building a home on it fulfilled a dream and he never had the slightest doubt that he had done the right thing."
Jim and Alison grew up there treating the as-yet to be fully built-up Stanley Point as their personal playground. "At one stage I had a ladder down the cliff to the water, with a friend from down the road," recalls Jim.
"It's a fairly big cliff but we would clamber and slide up and down it.
It was a wonderful playground to grow up in ... still is, I imagine."
Completed in 1939, what is still known locally as the Orr house, is an imposing two-storey stuccoed affair, bridging Art Deco and mid-century aesthetics. Consequently, high quality materials are used throughout. The living rooms face the sun and the views, and the bedrooms, while modest in size by 21st-century standards, are comfortable and practical. Jim's room, which now overlooks the Cloud, still has the Canadian Rockies-themed wallpaper it had when he was a child; while Alison's next door has a balcony with jaw-dropping views of the harbour and city, including an unobstructed outlook over the naval base with Rangitoto Island beyond.
What was their parents' bedroom is at the other end of a short hall with a bathroom servicing all three bedrooms.
As Alison says with a laugh, "Even the bathroom has a view. We all slept up here and, on windy nights, it was like being in a lighthouse, nothing between us and the elements except this big strong house."
This main bedroom, with its sea-filled windows on three sides, was replaced by a downstairs version in the 1980s when Stuart and his wife, Betty, reached an age when they needed to live on one level.
A large bedroom and small en suite were built beside the living room, dining room and kitchen, and it was here that they lived until fairly recently.
In the basement is a general storage area called, rather grandly in Alison's opinion, the garden room, plus a workshop, garage and laundry. This area is ripe for development and, even though semi-basement, it still has enough of that miracle outlook to repay the work.
With a heritage order on the building, sensitive modernisation and extension would be called for.
Alison and Jim are very sad to let their childhood home leave the family but, as both are settled elsewhere, it's not practical to hang on to it. "It was a brilliant childhood, we had here," says Alison.
"We'd love to keep it but it is much too big for me and Jim is happy where he is, so it's time for a new family to take it on. It's a magic place."
By Cate Foster