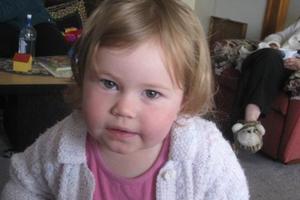 Little Aisling Symes will be laid to rest tomorrow.
Friends and family will gather at the Ranui Baptist Church in West Auckland to remember the bubbly 2-year-old whose body was found in a stormwater drainpipe on Monday night.
After seven agonising days clinging to hope she was safe with a stranger, parents Alan and Angela Symes were devastated by the discovery. In a statement, the family thanked New Zealanders for their sympathy and support but asked mourners to respect their privacy and grief.
"It's not just our family who are grieving for Aisling. So many people are sharing our loss, and it is for this reason we are happy for members of the public to attend."
The service will be led by Pastor Russell Watts, with family tributes and music in memory of "a cherished little girl" followed by a private cremation.
Meanwhile, police have tracked down and spoken to the mystery Asian woman believed to be the last person to see the toddler.
The woman had become the strongest lead in the inquiry after a large-scale search of the area surrounding Longburn Rd in Henderson offered no trace of the toddler.
Police had believed Aisling was the victim of an "opportunistic abduction" and that the woman might have held crucial information.
But detectives spoke with her on Tuesday night and were "satisfied she's unable to help us further", said inquiry head Inspector Gary Davey.
He refused to discuss the conversation but said she was no longer part of the investigation.
"We had to cover all possible scenarios, including abduction, and tease out all lines of inquiry, including sightings of an Asian woman in the area," Mr Davey said.
He acknowledged police interest in seeking the Asian woman caused "some concern amongst the community" but said it was "a necessary part of trying to find Aisling".
Mr Davey thanked the public for their help and support over the last week.
"We sincerely thank all the many members of the public who have delivered messages, beautiful cards prepared by children, flowers and other tributes.
"Many of these messages have come to us here at Henderson Police. Our team and Aisling's family appreciate these wonderful gestures."
A team of 30 police staff were now completing background inquiries, scene reports and working on file preparation as part of the coronial process.
Mr Davey said police would remain in close contact with the Symes family and offer support where needed.