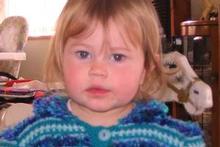 Police searching for toddler Aisling Symes are now looking at any reports of suspicious behaviour in the Henderson area in the past few weeks, particularly involving child-related offending.
TV3 this morning reported that police were going to an address in Henderson after a possible sighting of Aisling, but the story was later taken off their website.
As the search for the 2-year-old intensified yesterday, police confirmed they believed she had been abducted.
Aisling disappeared about 5pm on Monday from her deceased grandparents' vacant Longburn Rd home, which her mother, Angela Symes, was cleaning.
Earlier, neighbour Cherie Tahitahi had heard Aisling and her sister, Caitlin, 5, giggling at some ducklings.
Inquiry head Inspector Gary Davey said it was unlikely Aisling had been swept out to sea and police believed she could be with a stranger.
Suspicious behaviour had been reported in the area recently, he said, but he would not say whether that involved paedophiles.
"We will be profiling people of interest who were either predisposed to that type of behaviour or living in the area."
Yesterday, police went door-knocking. They want people to report any suspicious behaviour within 5km of Longburn Rd.
Early this week, police said an Asian women had been seen talking to Aisling just before her disappearance. The woman was in her 30s, about 165cm tall with a medium build and long straight black hair.
She was wearing a black crew-neck top, with three-quarter-length sleeves, three-quarter-length blue jeans and black leather sandals and black socks.
She had a black and grey medium-sized dog on a lead.
"Someone will know who that Asian lady is with the dog and whether there have been sightings of an Asian woman in and around that Longburn Rd area," Mr Davey said.
Police were confident Aisling was not in the area so had to look at the abduction scenario, "given her age and the possibility of how far she would move under her own steam".
Last night, ESR forensic staff were seen in the Longburn Rd house. Mr Davey said they were doing a forensic search as part of "standard policing procedures".
"Police have to keep an open mind as far as all possibilities, whether she's gone missing through misadventure or has been abducted. I think it would be remiss if we didn't keep all avenues open," he said.
Aisling was yesterday described as a bubbly little toddler who loved to play with people and animals.
Her name, derived from her Irish father Alan's side of the family, means "vision of heaven". And by all accounts, this is appropriate.
Her devastated family fear the toddler's outgoing nature made her easy to snatch.
"She didn't have any inhibitions that I could see," her uncle David Ball said from the family's Massey home.
Aisling's aunt Aithne Potts said the toddler had no qualms about being with large groups of people - be they family, friends or church members.
Mr Ball said Alan and Angela Symes were with police yesterday "trying to get the big picture and sort everything out".
Mr Symes, as a former search and rescue worker and security guard, had been taking a keen interest in the efforts to find his daughter.
But after an extensive, fruitless search of the 3km area surrounding the house - by land, water and air - police suspended it.
Aisling's parents were too distraught to speak publicly.
But Ms Potts said described her niece as a typical, happy little girl who loved music, dancing and playing with animals and her dolls.
"She was a maternal little girl who would dress her dollies up and put them to bed."
Aisling's vocabulary was limited, but as a passionate eater, she could name quite a few foods.
"Strawberries, tomatoes ... cheese is another favourite. She will happily say 'cheese'. I think if given half a chance she would empty the fridge of cheese."
On behalf of the family, Ms Potts pleaded for the toddler's safe return.
"We don't understand why it's been so long and we know nothing, so please tell us where she is. We just want her home."
Two days after Aisling's disappearance on a bitterly cold night, the Symes were yesterday struggling to cope.
Mr Ball said Angela, his sister, "is having trouble breathing she's crying so much".
Aisling's father, who was "typically a stoic Irishman", had been fairly controlled but "he's having a hard day today ... has been breaking down a lot, which is not normal for a guy like him."
Caitlin did not understand what had happened.
"She's a typical 5-year-old who thinks it's a bit of a family party and doesn't understand why so many people are around."
Mr Ball said that having grown up in the Longburn Rd house, he doubted she had been taken by the creek. "It was certainly a rainy day, but it didn't seem to me like it was life-threatening, certainly about 100m away [the creek] gets very deep and wide."
But Aisling's passion for water, had been a concern. "We used to call her 'Splashling', he said. "But then she loved animals so that could have been the attraction."
* Police are urging anyone with information to phone 0800 4 AISLING or call into a special police point in the Lincoln North Mall on Lincoln Rd.
Police ask that people ringing the 0800 number do not suggest checking the dog registers. They say this is useful advice but has already been carried out.
By Rachel Tiffen

Email

Rachel