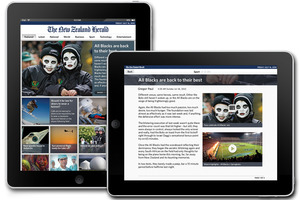 NZ Herald Apple Apps - Technical issues with iPhone App.
A small number of customers are experiencing issues with the latest version of the NZ Herald iPhone App (v 2.0.5), which is compatible with iOS v 6.0 or higher.
We're sorry for the inconvenience and our team is focused on getting it fixed. In the meantime, please try deleting your app and re-installing it, and also closing other background applications.
If this doesn't fix the issue, in the meantime you can browse the herald on your mobile browser at www.nzherald.co.nz.
Thank you for your patience