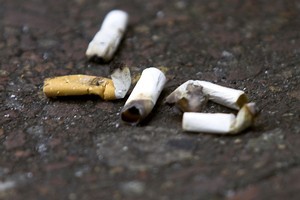 More than fifty per cent of Wellingtonians believe the city's "Golden Mile" of shopping streets should be smokefree, an Otago University study has found.
Researchers found people walking along Courtney Place, Manners Mall and Street, Willis Street and Lambton Quay would come across an average seven smokers every 10 minutes, public health researcher Associate Professor Nick Wilson said.
"This means that non-smokers are coming into contact with second-hand smoke on a regular basis, and raises the question whether New Zealand should follow other jurisdictions in making busy shopping areas smokefree," Mr Wilson said.
"Retailers may also attract more shoppers if a smokefree policy improves their experience."
The study found 56 per cent of people believed these streets should be smokefree.
Many other public outdoor areas, such as schools and around hospitals, have been made smokefree in recent years by government agencies. About one third of local councils now have smokefree signs at playgrounds and parks, the researchers said.
The study also measured fine particulates (PM2.5) in the air with a portable air monitoring device. This particular size can penetrate deep into the lungs. Levels of these particulates where smoking was observed were, on average, three times those found beside a busy road junction on Wellington's "Golden Mile".
The study found the highest levels of particulates were detected where groups were smoking at tables outside bars and cafes. In one bar's outdoor area, mean levels were seven times higher than those found beside the busy road junction, with a peak level 35 times higher.
The lead author of the study, Rhys Parry, said the high particulate levels in outdoor areas of bars and cafes had implications for the health of non-smokers from second-hand smoke, and for the staff at these establishments.
He said this suggested the need for smokefree policies to be extended to protect the health of workers, and that of non-smoking customers wanting to sit outside at cafes and bars. Some countries and jurisdictions have already introduced such policies, including Queensland and West Australia, some Canadian provinces, and some states in the USA as well as 177 American cities. In Tasmania, both Hobart and Launceston have adopted smokefree outdoor policies for the central business districts.
Mr Wilson said the study gave more direction for policymakers and local authorities regarding the development of smokefree environments in heavily used shopping areas in New Zealand.
The research has just been published in the international journal, Nicotine & Tobacco Research and was funded by the Health Research Council.