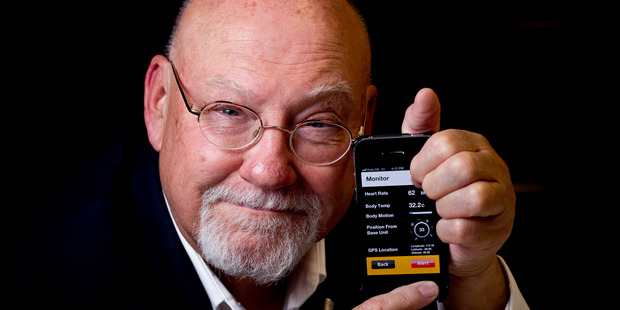 Sir Ray Avery's Vigil Monitoring - which is developing a wristband that constantly monitors a patient's vitals and uploads the information to the internet - has received funding from Callaghan Innovation to help get the invention to market.
Avery and his team at Vigil are developing the device, which should go through clinical trials in October and is expected to be commercially released in December.
The wristband is designed to collect data including heart rate and body temperature.
This is then uploaded to the internet where it can be accessed anywhere by caregivers, doctors or specialists, including on a smartphone or tablet device.
As it stands, doctors who test patients can only compare the information to what they gathered during a previous visit but 24-hour a day monitoring gives them a more complete picture.
Vigil has now secured $250,000 funding from Callaghan Innovation, the Government research and development body that launched at the start of this year.
Vigil said this funding now means it "can now charge ahead with commercialising" the product.
"The Callaghan Innovation funding is very important to us....not just because of the obvious injection of funds to help commercialise our technology but because it is a commercialisation litmus test. The funding approval process is extremely demanding and forensic in its approach to a company's commercial viability, as it should be, and this will give additional comfort to our investors," Avery said.
Avery told the Herald in April that Vigil had already signed a contract with an organisation that provides services to 40,000 people and could enter a partnership with district health boards.
The company plans for its revenue stream to come from charging clients monthly monitoring fees, he said.