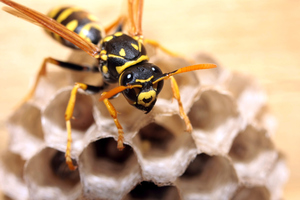 A senior Kapiti Coast District Council animal control officer needed medical treatment after being stung by wasps dozens of times.
The incident happened last week after about three wasp nests were disturbed while a group of 19 stray cows were being led to a safe area.
Council community services group manager Tamsin Evans said two staff members were driving in a work utility along Arawhata Rd when they were notified of cows loose in Rata Rd.
"They phoned another animal control officer and agreed to meet up on the corner of Rata Rd and Manawa Ave.
"They knew the farmer so rang him to ask which paddock to put the cows back into."
As the officers and cows walked casually down a track "all of a sudden wasps came from everywhere".
One of the officers, walking behind the cows, was badly attacked and received "dozens" of stings.
The officer called to her colleagues for assistance. They were stung as well but not as badly.
The badly stung officer, who received stings to her upper body and legs, was taken to the old TelstraClear building in Ihakara St where staff helped and rang for an ambulance.
"Paramedics came and assessed all three of them," Ms Evans said.
The female victim received medical treatment.
Ms Evans said the three officers were sent home to recover.
Extra council staff later manned the track and advised anyone using the track about the danger until all three wasp nests were exterminated.