Weightlifting for kids? Danielle Wright finds it's not as bad as it sounds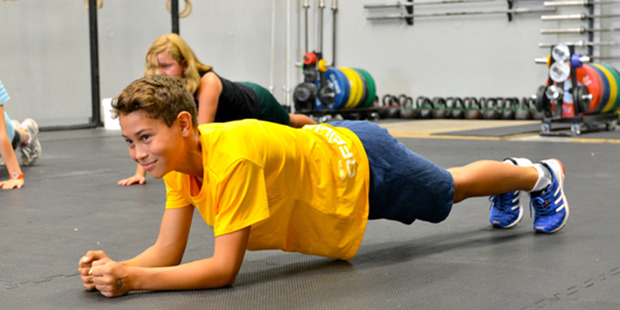 At a CrossFit Kids class in Albany, there are no mini-Incredible Hulks - that kind of bulking up doesn't happen until after puberty. Instead, groups of focused children enjoy the class more than many I've seen at Saturday morning team sports.
"Some children come to us with gross motor pattern deficiencies and imbalances - basically, they're looking like adults before their time," says Alex Porter, head coach of the club. "Some are athletes after a competitive edge, others are sent by parents who see an inadequate PE system in schools without dedicated sports teachers. Here, the kids can play, run and jump, while developing skills for life."
The room is filled with interesting-looking props, such as giant tyres and covered chains. There are also boxes to jump up on, rings to swing on and a variety of weights - bags, poles, dumbbells and kettle-bells.
It's the weights that have parents talking. In 2008, The American Academy of Pediatrics revised it policy against weightlifting for children. Considering new research, it now recommends light weightlifting routines as safe for kids over 8, which has seen an upsurge in CrossFit Kids classes across America, filtering to New Zealand.
Classes are said to combine gymnastics, body weight calisthenics and weightlifting elements to develop capacity across 10 general physical skills: cardio-respiratory endurance, power, strength, stamina, speed, agility, flexibility, balance, accuracy and co-ordination.
"Any exercise that is fun and gets kids active, has got to be a good thing," says Mairangi Bay-based physiotherapist and mum, Hayley Glasgow. "However, I would caution against overloading an immature skeletal system with heavy explosive exercises or Olympic-type lifts.
"Any resistance or strength training programme needs to be well supervised to ensure form and technique is optimal for injury prevention," says Glasgow.
The coaches of the classes I watch proactively teach the right techniques and I learn more listening to them on the sidelines than I ever did when I was a member of a gym around the corner.
"We teach functional movement - the things people do in daily lives, like picking up things correctly with good posture," says Antoinette van Burick, coach of the youngest CrossFit participants. "We also have a lot of fun with the kids, they're adorable."
I watch her class as the children take turns talking about their day, train for "accuracy" and then learn gymnastics skills.
It's fun, but there's also an element of discipline and the kids are offered a one-minute break for a drink of water. If they're late, they're threatened with the dreaded burpee exercise. No one is late back.
"It's a fun way to keep fit and learn new skills each week," says Danni Morgan, 15, who has been coming for two years.
"I'm a lot stronger now and notice things getting easier to do as I progress."
"CrossFit has also made me quicker for other sports such as soccer and stronger when I did cheerleading," says Danni, whose favourite move in CrossFit is called "skin the cats" on the rings.
Some of the children don't look particularly sporty, but all look keen to come to class and participate - even one boy with a broken toe, for whom the coach has adapted the exercises so he can still join in.
Not all children are going to excel in team sports and how many adults do you know who still play them regularly? Mini-adult versions such as CrossFit Kids seem a good alternative and provide an early start in developing the fitness habit.

Fit it in
Find a CrossFit Kids class at crossfitauckland.com. Cost is $15 a session or $135 a quarter and training times are on various days from 4.15pm. Phone (09) 478 2325 for further information. Age groups are: 7-11, 12-14 and 15-18. 19C Triton Drive, Albany.