Study finds hefty price rise would make 75 per cent of NZ's 650,000 smokers give up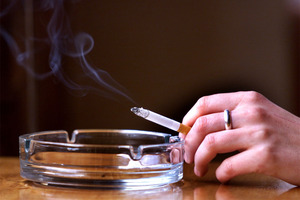 Forcing cigarettes up to $40 for a pack of 20 would achieve New Zealand's smokefree goal virtually overnight, important new research indicates.
A cheaper pack of 20 costs just under $15 in supermarkets at present, midway through a series of tax rises expected to price them at $20 in 2016.
In a study by public health specialist Dr Murray Laugesen and colleagues, to be presented at an American conference next week, 343 New Zealand smokers were interviewed about their future smoking intentions at various price points.
At $20, 25 per cent said they would quit, but a price of $50 was required for 80 per cent to anticipate they would give up.
If 75 per cent of today's 650,000 adult New Zealand smokers gave up - which the interviews indicated would need a price of $40 - smoking prevalence would fall to about 5 per cent.
This is the "essentially smokefree" level the Government is aiming for by 2025 with its three coming tax rises, quit-smoking treatment schemes, media advertising to support quitting and the promise of legislation to implement plain tobacco packaging.
Some experts say stronger policies will be needed.
Ministry of Health officials last year discussed taxing to push the price to $100 a pack by 2020, but concluded such big tax hikes were "probably unrealistic". They canvassed other radical tobacco "end-game" policies, such as making tobacco available only for addicted users on treatment schemes and restricting the number of tobacco retailers.
Dr Laugesen said two-thirds of the smokers interviewed said they would use battery-powered "e-cigarettes", which emit vapour rather than smoke, to quit.
But the ministry is worried e-cigarettes may become a new route to smoking and has warned their distribution is illegal as it considers them an unapproved medicine.
Price to quit
* $20 for a pack of 20 cigarettes - 25 per cent of smokers would quit
* $25 - 50 per cent
* $30 - 65 per cent
* $40 - 75 per cent
* $50 - 80 per cent
* Source: Health NZ, Auckland, Victoria and Canterbury Universities