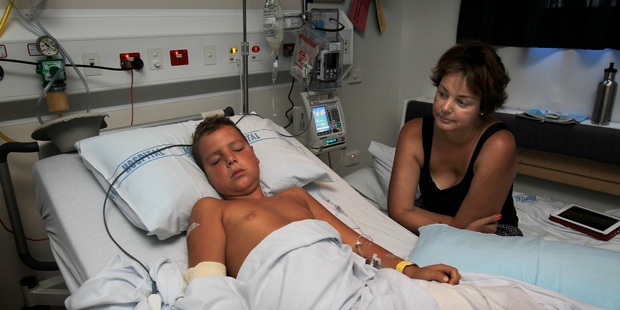 A mother has told of the moment she saw her 8-year-old son lying under his motorbike with a large branch sticking out of his thigh.
Jodie Carlyle was hanging out the washing when she heard her son cry out, then a neighbour rang to say little Marcus had crashed and an ambulance was on its way.
She and her husband Mark ran to find Marcus down a bank with his 50cc bike on top of him and an 8cm branch sticking out of his left thigh.
Mrs Carlyle described Marcus as a "tough cookie" and a "staunch little fella" who put on a brave face throughout the ordeal.
She choked up as she recalled the wait for the ambulance.
"He just kept asking if he was going to die. We just reassured him that he wouldn't die. We just reassured him that he was okay that all we had to do was just get him to the hospital and the team would take care of him.
"The branch didn't come out the other side but you could actually see it," Mrs Carlyle said. "There was a fist-size of muscle that you could see.
"We just had to keep him comfortable and still. We just covered where the branch had gone in so he couldn't see it and just waited with him."
Firefighters arrived and held Marcus' leg up while they cut through the branch with a battery operated hacksaw.
Paramedics took him to hospital with the branch embedded in his leg.
Doctors operated to remove the branch on Monday night but he was expected to undergo further surgery to clean the wound today.
It is hoped the Bethlehem School student could be home on Friday but if a skin graft was deemed necessary he would remain in hospital for the weekend.
Marcus was riding his usual circuit up the driveway of his rural Papamoa home to the neighbour's house, and down their track to the paddock, when the accident happened about 6pm on Monday, Mrs Carlyle said.
He was wearing a helmet at the time.
It seemed he had panicked, slammed on the front brakes, lost control and slid down a bank into a group of large trees, she said.
Marcus was resting in his hospital bed, too tired to stay awake, when the Bay of Plenty Times visited him yesterday.
He was holding up well but had told his parents he was not getting back on his motorbike.
Mrs Carlyle did not want the accident to put her son off riding but said the decision would be his own.
He had only been riding the motorbike for about four months and was still cautious on it, she said.
Tauranga Police Acting Senior Sergeant Wayne Hunter said there were no rules about riding motorbikes on private property but he recommended helmets were always worn.
The experience and skill of riders, rather than their age, should also be taken into account, he said.
For more articles from this region, go to Bay of Plenty Times