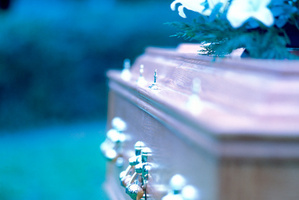 Hayley Soper went to farewell a friend who died from injuries suffered in a motorcycle crash.
But 25 minutes into the funeral of David Stevens, she was confronted with the terrible news that her own father had died of a heart attack.
When her grandmother rushed into the service in Christchurch on Monday and urged her outside, she knew something was wrong.
"She said to me, 'Your father's dead. He's had a heart attack. Get everyone together. We have to go,"' Ms Soper, 21, said.
Her father, Regan Soper, 50, had his fatal heart attack at New Brighton Health Care. He had not been feeling well on Friday and had made an appointment for Monday. Staff tried to resuscitate him but were unable to.
"I couldn't believe it. I was in total shock. I was already upset from David's funeral.
I got in the car and we drove to my dad's house. It hit me when I got out of the car. It was like a bad nightmare," Ms Soper said.
"I still didn't believe he'd gone until I saw him that night."
Mr Stevens, whose life support was turned off at Christchurch Hospital on January 7, suffered severe head injuries when he came off his motorcycle on January 5.
In a cruel twist, his father Paul Stevens, found out about the crash only when he rang his son's cellphone to find out where he was and a staff member from the intensive care unit answered and gave him the news.
Ms Soper said she would miss everything about her dad.
"Dad would text me every day to tell me he loved me. He couldn't tell me enough. He was my best friend. I am going to miss those texts."
The last text messages Ms Soper received from him were on Sunday night and Monday morning.
"He thanked me for a wonderful day and said he hoped we could do that every Sunday. He texted me Monday morning to let me know he had a doctor's appointment."
-APN