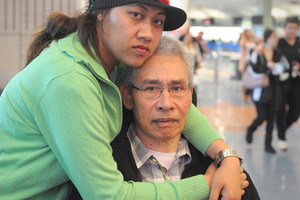 A tetraplegic Tongan man who fought deportation for six years has left the country.
Semisi Ma'afu Samiu flew out of Auckland International Airport yesterday morning, bound for Nuku'alofa and in the care of a medical escort.
The 61-year-old had defied Immigration New Zealand orders to leave since he injured his spine in 2006 while in the country on a visitor's visa.
His family believe he will not survive long in Tonga because facilities for disabled people are limited.
Samiu told the Herald on Sunday on Friday he did not want to go home but would do so to protect his daughter, Laumanu Ma'afu.
"I don't want her getting in trouble with Immigration. But it's not good, it's not fair."
Ma'afu said she felt "sorry and sad" for her father. "We struggle in the islands, that's why we are here."
Both were upset he was booked to travel in an economy seat rather than on a stretcher, as it was hard on his body to sit up for more than two hours.
The family could not afford the $6500 cost and his caregiver had assured Air New Zealand he could travel safely in a seat.
Samiu's GP John Carter said he discussed Samiu's travel arrangements with Air NZ's doctor and the pair had agreed he should make the three-hour flight on a stretcher.
Samiu suffered from low blood pressure and fainting spells, which could be a problem for the crew to deal with if he was in a seat.
However, Ma'afu confirmed yesterday her father had arrived safely in Tonga.
Samiu will be cared for by his wife, with equipment donated by ACC as part of the agreement to leave the country.

What it cost
*Donation of ACC-owned hoist, wheelchair and bed to Samiu estimated at $10,000+
*Flying and shipping equipment to Tonga: $2090. Paid by Immigration NZ.
*Medical escort to Tonga: Immigration NZ will be invoiced an hourly rate and the cost of a return flight.
*One way economy class ticket to Tonga for Samiu: $878 (paid by family)