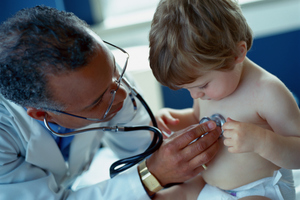 A Bay of Islands doctor failed to diagnose meningococcal disease in a child who died just a few hours after visiting an after-hours GP.
But an investigation into the death has found the diagnosis could also have been missed if the baby was seen by another doctor.
GPs are being reminded to be more vigilant when it comes to the deadly illness after the tragedy.
The warning comes from primary health authorities and the Northland District Health Board after an inquiry into the death of a Kerikeri 14-month-old girl in October. She was seen by the doctor but discharged and died at home hours later in the early morning.
Northland Primary Healthcare clinical director Kyle Eggleton led the investigation into whether an on-call doctor at Bay of Islands Hospital made mistakes in diagnosing and treating the child on October 14.
His inquiry found the after-hours duty doctor had not made mistakes in his initial treatment for gastroenteritis and an ear infection. However, the doctor did not diagnose the child's meningococcal disease and had not fully ensured the toddler's parents understood how serious the matter could become should her condition deteriorate.
'First and foremost the death of a child is a tragedy and no amount of investigating is going to ease the sorrow the family feel," Dr Eggleton said.
"Meningococcal disease is a very unpredictable disease so anything we can learn that better prepares us for such cases is really important to us."
Making the correct diagnosis of meningococcal septicaemia was difficult, especially in early presentations, "and the clinicians reviewing the case felt that the diagnosis could also have been missed if the baby had been seen by another doctor".
Dr Eggleton said the tragedy was a reminder that meningococcal disease moved with frightening speed, with patients often succumbing within 24 hours or less of the onset of symptoms.
It could initially mimic viral illness with the classic features often appearing too late for therapy to be effective.
Northland primary health organisations will issue a wallet-sized card for parents to use as a prompt when seeking medical advice for sick children.
The sentinel event investigation by Te Tai Tokerau PHO and Northland District Health Board has also led to Northland PHOs offering ongoing professional development for all GPs which would include improved documentation, follow-up planning and management in the after-hours setting.
- Additional reporting by the Northern Advocate