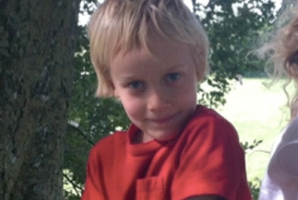 A 7-year-old cancer sufferer has been placed in protective care after he was tracked down with his New Zealand mother, who went on the run with him this week to prevent his medical treatment.
Sally Roberts, 37, wants her son Neon's brain tumour to be treated with natural remedies rather than the radiotherapy doctors say he desperately needs to survive.
She is locked in a court battle with her estranged husband, Londoner Ben Roberts, 34, over their son's treatment.
She went on the run with the boy in Britain this week, sparking a nationwide search. Police said last night Neon had been found "safe and well" by officers in Sussex.
In a rare move, a British High Court family judge relaxed reporting restrictions to allow Neon to be identified during the hunt, the Daily Telegraph reported.
Under British law, the National Health Service and local authorities can take legal action against parents who oppose treatments doctors say are necessary to save a child's life.
Justice Mary Hogg said Neon had recently undergone surgery for a brain tumour and needed urgent radiotherapy.
"His mother, Mrs Sally Roberts, who is also known as Sally Lees, is opposed to the treatment and has disappeared with Neon. "The doctors say that unless treatment is started next week, the prospects of Neon's surviving are dramatically reduced."
Justice Hogg had urged Mrs Roberts to attend the next hearing, set down for Friday (UK time), saying she was "deeply concerned for the welfare and wellbeing of this little boy".
Mr Roberts told the Daily Mail his wife was opposed to radiotherapy because it might damage Neon's "intelligence, growth and hormones".
"She wants to do everything she can and rely on natural remedies and things that are not too invasive, rather than radiotherapy and chemotherapy. She is worried about the damage that can be done. She wants him to be able to live a normal life."
Mr Roberts was also concerned about the side-effects but said the evidence was that Neon needed the treatment.
The Daily Mail said Mrs Roberts was "well-known in music circles" as DJ Sally. She has performed at London nightclubs and the popular Glastonbury Festival.
- APNZ