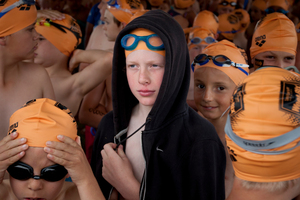 Hundreds of schoolchildren yesterday braved the cold and donned swimming caps, running shoes and helmets for the annual TRYathlon.
The Manurewa event was the first of 13, sponsored by Weet-Bix, to be held around the country over the coming months. Yesterday's competitors, aged between 7 and 15, came from 18 schools in the area.
The event started with a swim in the 25m indoor pool at the Aquatic Centre next to Mountfort Park. The competitors then biked on surrounding roads and ran around Mountfort Park.
Each child who finishes the event gets a medal.
The last event will be held on the North Shore on April 14.