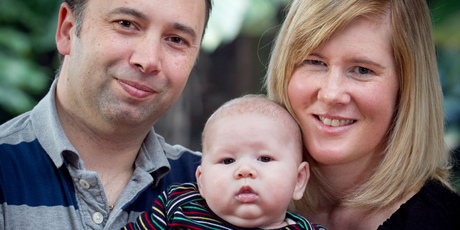 Mason Astley's family want a normal life for their 4-month-old baby after the near-death ordeal of open-heart surgery and serious complications.
But medical science cannot tell Trevor and Heidi Astley, of Mt Albert in Auckland, what lies ahead for their youngest son.
As Mason was emerging from a long bout of treatment that began with surgery to correct heart abnormalities he was born with, doctors at the Starship children's hospital revealed he had brain damage. He is at risk of cerebral palsy.
There can be a risk of brain problems from heart surgery, but there is now also evidence that in some cases brain damage may be associated with being born with a malformed heart.
"It is extensive white matter injury," Mr Astley said of Mason's brain damage. "They don't know enough about it to confirm whether or not it will have an effect."
Mrs Astley said: "Time will tell ... Looking at him you wouldn't know, although he does favour his right side."
Mason looked cute and contented yesterday when the Herald visited - while his two brothers ran around the house.
After Mason's birth in Auckland City Hospital in March, a heart murmur was detected, leading to a night in neonatal intensive care.
"We were devastated when we were told that our beautiful baby had a complex heart condition and would require open-heart surgery to save his life," Mr Astley said.
The main defects have been a faulty valve where oxygenated blood leaves the heart, a narrowing of the aorta artery where it arches, the failure to close after birth of an opening between two of the heart's chambers, and a thickening of the tissue of the left-side final pumping chamber.
Mason had his first open-heart surgery at just 6 days old, to repair his aortic valve and aortic arch. Several days later his blood pressure plummeted and he was rushed into theatre for another operation.
He had a major infection of his chest cavity and later suffered a haemorrhage in a lung.
"Our world collapsed when the ... doctor told us that Mason was 'receiving the maximum amount of assistance that could be given' and that'it's looking a bit grim now so spendas much time with him as youcan'," Mr Astley said.
But Mason survived and normality was beginning to return, although he would require more surgery in future.
"He has gained over 2kg in weight since coming home two months ago and is developing well."
HEART DEFECTS
*12 babies born each week with a heart defect.
* 90 per cent are expected to live to adulthood.
* The charity @Heart supports people affected by a birth heart defect and childhood-acquired heart disease.
* It is running an awareness and fundraising campaign featuring former All Black captain Tana Umaga.
* Donation information at heartnz.org.nz. Street appeal on Friday.
By Martin Johnston

Email

Martin