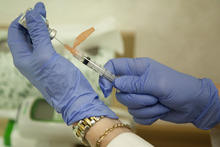 A maternity ward worker may have passed on potentially deadly whooping cough to newborn infants and pregnant women in south Auckland, health authorities say.
Auckland Regional Public Health Service (ARPHS) this morning said a health professional working in Middlemore Hospital maternity services had been diagnosed with whooping cough.
The highly infectious bacterial disease can be easily spread through coughing and sneezing, similar to a common cold.
It can cause severe illness and, in rare cases death, when it is passed on to babies, infants or women in the last three months of their pregnancy.
ARPHS says 170 people may have been exposed to the infected person, and it has already been in touch with all of those who were possibly affected.
It earlier said all affected mothers would be told how to identify whooping cough symptoms and would be advised to seek treatment.
Clinical Director Julia Peters said support was on hand for any mother who feared for their family's health.
"We fully understand that these mothers may be concerned about the health of their newborn babies. We encourage them to be vigilant for symptoms and to contact their GP immediately if they have any concerns.
All maternity carers associated with people who had been exposed to whooping cough had been given guidance on how to treat the disease, ARPHS said.