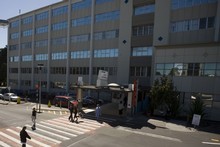 A Christchurch doctor had to treat a woman who was partially paralysed by a "hickey".
Teddy Whu, who works at Christchurch Hospital's neurology department, said he believed it was the first time someone had been hospitalised by a love-bite, The Press reported.
The woman's case has appeared in the New Zealand Medical Journal, where Dr Whu said he treated the 44-year-old woman over a year ago while working in Middlemore Hospital in Auckland.
The woman experienced loss of movement in her left arm after her former partner gave her a hickey on her neck, near an artery, while watching television.
Dr Whu told The Press there was a clot in the artery underneath the love-bite, which had gone into the woman's heart and caused a minor stroke that led to the loss of movement.
The clot disappeared after within a week of treatment.
- NZPA