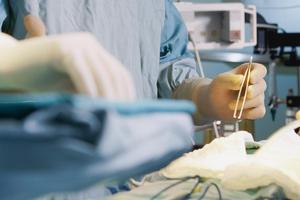 More than 10 per cent of New Zealand surgeons are practising into old age - some to beyond 70 - partly because of a lack of younger replacements.
About 11 per cent are over 65, a survey by the Royal Australasian College of Surgeons shows - a similar rate to Australia. But 4 per cent are over 70 in New Zealand, significantly higher than Australia's 1.1 per cent.
Their competence is not in question - all doctors must satisfy the Medical Council that they are fit to practise - but practising into old age could suggest shortages in the workforce, despite a 15 per cent increase in the number of practising surgeons in New Zealand since 2005.
In both countries, more than 20 per cent of public hospital surgeons rostered for after-hours on-call duties to care for acutely sick or injured patients said they intended to retire within five years.
"The ageing workforce is interesting," the Association of Salaried Medical Specialists' executive director, Ian Powell, said yesterday. "What that means to me is that we are still not retaining enough at the younger end and that's putting more pressure on those at the older end to stay longer."
He expected the trend would be more pronounced in other specialties, such as paediatrics and psychiatry, where there were fewer openings for higher-paid private practice. The association's own research has found that half New Zealand registrars in their final year of training leave to take up their first specialist position overseas.
"The most common reason for leaving, according to the training directors, was for better salaries and conditions," Mr Powell said.
The college's NZ national board chairman, John Kyngdon, a Bay of Plenty and Gisborne surgeon, said the retirement intentions of public hospital on-call surgeons were a greater concern than surgeons aged over 70. He said the number of state-funded surgical training places needed to rise and the training programmes needed to be extended to small public hospitals and to private hospitals.
The college has previously stated its support for a trial, to be run at Middlemore Hospital's surgery department, of the position of "physician assistant".
This is a new role for New Zealand, although it is well established overseas, and will involve surgeons delegating some tasks to the assistants, freeing them to do more clinical work and training of junior doctors.
Health Workforce NZ, a Health Ministry committee, is developing schemes to try to keep registrars in New Zealand.
SURGICAL SNAPSHOT
* 81 per cent of the Royal Australasian College of Surgeons' 4881 fellows completed the survey last year.
* 7.5 per cent of New Zealand surgeons are 65-69.
* 666 active surgeons in New Zealand .
* 1 for every 6000 people.
* 1 per 7000 in 2005.
* 4 per cent are over 70.
* 28.5 per cent said junior medical staff cover barely adequate.
* 6.2 per cent called it dangerously inadequate.
* 54.9 per cent said more surgeons needed in public sector.