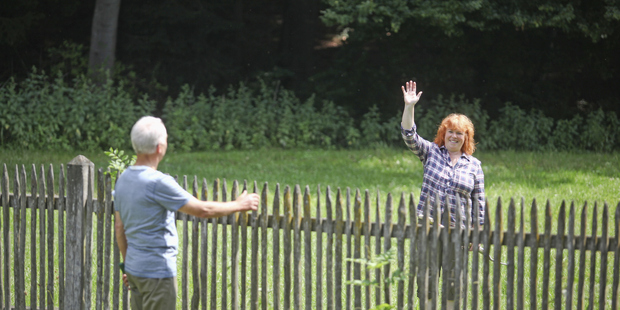 Ever felt like your neighbour's antics could drive you to an early grave?
Well, there may be reason for concern, said researchers who have reported a link between having good neighbours and a healthier heart.
"Having good neighbours and feeling connected to others in the local community may help to curb an individual's heart attack risk," said a statement on Tuesday that accompanied a study published in the Journal of Epidemiology and Community Health.
Heart and blood vessel diseases are the top causes of death globally, claiming 15 million lives in 2010, the latest Global Burden of Disease study shows.
Research into neighbourhoods and health had in the past focused on negative impacts through factors such as fast-food restaurant density, violence, noise, traffic, poor air quality, vandalism and drug use, said the study authors.
For the latest research, the University of Michigan team used data from 5276 people aged over 50 with no history of heart problems, who were participants in a health and retirement study in the United States.
They monitored the cardiovascular health of the group, aged 70 on average and mainly married women, for four years from 2006 - during which 148 of the participants had a heart attack.
At the start of the project, the respondents were asked to award points out of seven to reflect the extent to which they felt part of their neighbourhood, could rely on their neighbours in a pinch, could trust their neighbours, and found their neighbours to be friendly.
When they crunched the numbers at the end of the study, the team found that for every point they had awarded out of seven, an individual had a reduced heart attack risk over the four-year study period.
People who gave a full score of seven out of seven had a 67 per cent reduced heart attack risk compared to people who gave a score of one, study co-author Eric Kim told AFP, and described the difference as "significant".
This was "approximately comparable to the reduced heart attack risk of a smoker vs a non-smoker", he said.
The statement said "this is an observational study so no definitive conclusions can be drawn about cause and effect".
Limitations of the study included that researchers did not have access to the trialists' family history of heart disease and stroke.
But they had ruled out other possibly confounding factors such as age, socio-economic status, mental health and underlying ailments such as diabetes.
The mechanism behind the association was not known, but the team said neighbourly cohesion could encourage physical activities such as walking, which counter artery clogging and disease.
"If future research replicates these findings, more neighbourhood-level public health approaches that target neighbourhood social cohesion may be warranted," the team said.
- AFP