Even a visitor from Mars can't distract husband as work-life balance goes out with the rubbish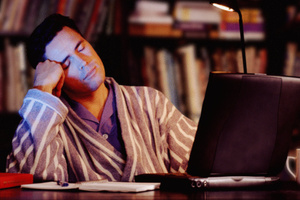 Being a supportive wife is not all about doing the housework and cooking. It's also about dealing with your husband's stress.
One of the few downsides of my year-long challenge of being a supportive wife is that it has meant my husband can work harder than he's ever worked before. Unencumbered by such daily necessities as dishes and laundry, he has been able to devote himself day in and day out to his new publishing company.
By all accounts his company is a success but the man formerly known as my laid-back, anything-goes husband has disappeared and been replaced by a stress bubble.
The bubble sits at his desk writing, editing, managing and keeping up with his extensive social media portfolio, lost in his own bubble world while the family gets on with normal life around him.
Most writers, like myself, prefer to lock themselves away in a quiet room when they are working on a big project, but not my husband.
He likes to work in a little room just off the kitchen where he insists he can still be "part of family life".
The bubble hasn't been part of family life for some time.
I realised this when the not quite one-word answers were coming back to questions like: "Chicken for dinner?"
"Mmm ..."
"Coffee?"
"Mmm ..."
"Would you like to meet the Martian that just landed in the living room?
"Mmm ..."
Under normal circumstances the bubble would be okay as I know that eventually he will take a pin and prick it, emerging as his former easy-going self.
But we are going through some rather big life-changing moments, which involve selling our house and buying another one up north. I am rather concerned that he'll wake up on Christmas morning and demand to know where his house is and what the hell he's doing staring at the Hokianga harbour?
So I put on my best supportive wife face and sat him down with the Martian and a cup of coffee and suggested that he might like to be "present". The need to be "present" is something I must have picked up in one of my numerous counselling sessions over the years.
"I am present," he said, giving the Martian a look. "I'm here, aren't I?"
So I was forced to try another tactic, and took him out on a "date". Another thing I learned in counselling.
We had dinner and then went to an 8pm movie.
He got through the dinner in a very present manner and then at precisely 8.05pm fell asleep, just after the opening credits of the movie.
He remained this way for the rest of the night while the 100-year-old plus woman next to me stayed alert and eager throughout.
"Time to go home," I said, as I nudged him awake during the final credits.
"Great movie," he lied, before driving to the local supermarket where he intended to do some shopping.
"It's closed," I said.
"Nonsense," he said, marching off.
I was right. At home we had a discussion about shopping being something you do in daylight and sleeping being something you don't do on a date and then he fell asleep again.
I've since realised that part of being a supportive wife is helping your husband achieve a certain work-life balance (counselling, again).
It requires constant over-the-shoulder monitoring of iPhone, iPad and iMac to check he's not answering emails or working after 8pm.
"Is that work or pleasure?" you inquire every 10 minutes.
And finally you resort to screening the entire series of Breaking Bad in the hope that he'll become addicted and watch TV instead of working.
Which he does for a few days, until he starts falling asleep.
The Martian, however, is completely addicted.