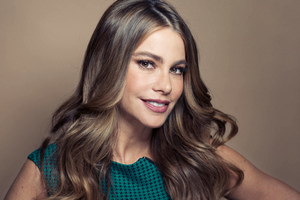 Sofia Vergara has frozen her eggs in the hope of having a baby in the future.
The 40-year-old actress - who has son Manolo, 21, from a previous marriage to childhood sweetheart Joe Gonzalez - and her fiancé Nicholas Loeb, 38, are keen to have a family one day so have "taken advantage of science" as they can't rely on natural methods because of her age.
She told Good Morning America: "[At] 40 years old nothing happens that naturally anymore... we just wanted to plan ahead.
"I already froze my eggs. I wanted to take advantage of science. I took them out already. They're in the refrigerators. Hopefully, they'll be fresh by the time I use them."
While the Modern Family star - who is planning her wedding for next summer - insists it isn't an "emergency" for her to have another child, she wants to fulfil her fiancé's dream of parenthood.
"My boyfriend Nicky is three years younger than me and he's never had a son," she said.
"I have my son, Manolo. So it's not an emergency for me to have another kid, but for Nicky, he's never had a baby."
However, despite her proactive approach to conception, Sofia insisted they are trying not to get their hopes up.
"We don't want to plan too much. It's difficult, you want to be excited, and then it doesn't happen. So we'll just wait and see what happens."
- BANG! Showbiz