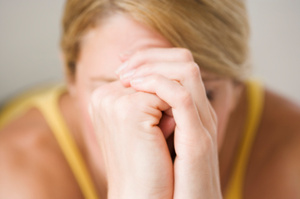 I hear a lot of this sort of thing:
• "I'd love to quit being a graphic designer and work with animals, but I'm 42 now, everybody would think that was ridiculous".
• "If I marry/divorce him then everyone will think I am crazy and it's a big mistake.
• "I actually find a lot of aspects of childcare really boring but everyone will think I am a bad mum if I don't cook from scratch every night."
• "I'd love to sell the bach and be mortgage-free but everybody says it's a bad time to sell."
• "Nobody thinks I am smart enough to run my
own business."
• "I can't leave this job: people will think I just can't cut it."

Notice how the individual's power has been given away to the collective "everybody".
"Everybody" is overruling the individual's natural inclination to make the choice he or she feels called to make, leaving them fearful of making a decision because of what "everybody" might think.
It may seem obvious when you see it written down here in black and white. "Duh! Who would be stupid enough to be influenced by that?" but I can assure you it is easy to end up doing what "everybody" expects or thinks is a sensible choice. I guarantee, on some level, it's a factor in your life too. Inside it's eating us up but we stay in a situation because its what "everyone" wants.

Listen Up! Some truth coming your way.
• "Everybody" may have our best interests at heart but that does not mean they are right.
• "Everybody" can have a vested interest or hidden agenda on you making a particular choice. Yes really.
• "Everybody" can be completely totally and utterly wrong about what is the right choice for you.
• Getting the approval of "everybody" is technically impossible. When you think about it it's actually ridiculous.
• Pleasing "everybody" is not, in fact, your job.
If you have a decision to make ask a few key people.
Ask their opinions. Understand that they have their opinion, they are entitled to it, and you can agree with it.
Or not. All it is, is an opinion, and your opinion is just as valid. Especially when it comes to the choices you make for your life!

Take it on board, but then listen to yourself. Disregard the opinion of the nameless, faceless "everybody". Do not let it take your power. It really doesn't matter what "everybody" thinks, in fact, what's important is what YOU think about the choices you make in your life.
So, be brave, step up, speak up, make wise choices based on the calling of your soul; don't give your power away to pleasing "everybody". Make 2013 full of choices that honour your truth.

Action step
What area of life are you trapped by the need to gain the approval of "everybody"? Make a choice in favour of YOU in 2013. Honour your own truth and make a wise choice based on your true needs and desires.

Each week, life coach, yoga teacher and corporate escapee Louise Thompson will share actionable tips to make life happier, healthier and less stressful. Louise will suggest simple changes in thought and habit that can transform how we feel, from improving the life/work balance, to losing weight through intuitive eating techniques.
For more from Louise visit www.positivebalance.co.nz.