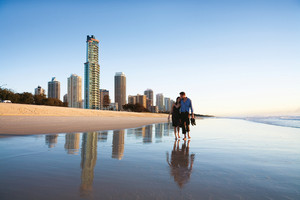 At my desk a week after I have left Gwinganna Lifestyle Retreat, I'm eating lunch. Nothing unusual there. But there are subtle differences in how I'm eating. Instead of inhaling my food as I read emails, scribble on documents or reply to texts, I am savouring every mouthful. I'm chewing slowly, flipping through a magazine as I practise mindful eating.

It is just one of the good habits I've returned with. There are also noticeably more greens on my lunch plate, and my water glass is more than arm's reach away. Drinking with meals is NG (Not Gwinganna). Apparently it's better for our digestion to drink before or after food, not with it.
The retreat rests on 200ha of bush-clad bliss high on the hills that make a spine to Queensland's Gold Coast. It's a landing place for the exhausted and the burned out; a time-out corner for adults needing to disconnect from stressful lives. It's also a lovely place to hang out if your holiday desires include serenity, organic food and gentle exercise.
General manager Sharon Kolkka has worked in the lifestyle retreat sector for some 16 years and has seen the needs of guests change.
"When I started, it was all about weight loss," says Sharon. "Then it started to change and managing stress became a reason. It's now the number one reason."
New Zealanders make up around 10 per cent of guests and the return rate of all guests is high. Before I went, I described it to friends as "healthy bootcamp", which is right and wrong. There is a lot of exercise but nothing is compulsory. There's no urging to be part of team activities - it's about suiting yourself, not anyone else's needs or expectations.
"This week is about you. You can take off all the Disney costumes and just be yourself," says Sharon, as I fill out forms and discuss my proposed programme. "This week you're not a writer, you're not an employee or a boss, you're not a mother or a wife. Relax, be you, and let us take care of you."
That thought is a bit confronting. Like a lot of women somewhere between 35 and retirement, I am all of those things, metaphorically spinning plates as I try to do many things well but know if my attention shifts for a minute, the plates drop and break. I tell Sharon that I don't think I know how not to be busy any more. "Trust us and let the week unfold," she says.
So I do. Gwinganna's day starts early with a 5.15 knock on the door and a warm "Good Morning Kirrrrrsty". As it's light by then and the Australian birds have started their chorus about the same time the randy nocturnal koalas have stopped their grunting, it's no great effort to get up. The sun is bright by the time the early risers have assembled for Qi Gong on the lawn. We face east, the shiny towers, sand and sea of the Gold Coast clear across the valley. Qi Gong, taken by programme director Donna Abate, is a series of gentle movements with a focus on breath and mind clarity. About half the guests turn up for this.

Spine and soul aligned, we gather back at the main dining area to hear what comes next. Every morning has a yin and yang option, named for the Taoist philosophy that everything must balance. Yang is energetic - it may be a strenuous walk that includes interval training up the 2km of damn-near vertical driveways. The yin option could be a gentler walk through the gardens with Gwinganna's chef-turned-organic gardener, Shelley Pryor.
After this start to the day, you're truly hungry and breakfast is served in the large and airy dining room overlooking one of Gwinganna's two infinity pools. Like all the food coming from the kitchen, it's organic, plentiful, balanced and devourable down to the last bite. Every meal is anticipated with pleasure and all dietary needs are catered for by head chef Hermann Schafellner and his team. The food philosophy is "LHI" or Low Human Intervention. Heaped bowls of salads are served with lunch and dinner, much of it picked from the gardens hours before. What the gardens and resident hens don't provide is sourced from local organic farmers and providores.
At the end of breakfast, the day's activities are explained. First on offer every morning is a stretching session taken by a tall and handsome elf. Carl van Roon is an expat Kiwi, Gwinganna staffer and world Tai Kwan Do title holder who appeared as an elf in The Hobbit. This is followed by more yin/yang options. Yang may be boxing, Spin, deep water running; Yin might be Pilates by the pool or yoga. All activities cater for all levels of flexibility and personal pace.
Morning tea is served on the porch of the historic Tweed Heads Club, a classic "Queenslander" with wide verandas now given new life as the spa's store and behind it, the room where the daily seminars are presented. During my week, the well-attended seminars by a range of specialist speakers include optimum nutrition; wellness with holistic GP Dr Karen Coates; core movement and flexibility and "re-framing your brain" to manage stress. Dreamtime is the languid hours between the end of lunch and dinner.
Week-long and seven-day packages include accommodation, all meals and core activities, plus two massage treatments, a facial and a further $100 towards other treats at the centre's spa. The spa is an architectural wonder of about 30 treatment rooms and facilities interconnected with bridges and walkways around towering eucalypts.
Guests are sent the menu of spa options ahead of arrival and it is many pages long. As well as beauty regimens and more than a dozen forms of massage, there are traditional Chinese medicine treatments and practitioners available to consult on a host of body and mind issues.
Sharon and spa manager Sarah have made some recommendations for me. I'm to try Rockupuncture, a mash-up of acupuncture and a hot stone massage, have a Hawaiian-style massage and visit a naturopath. They've also suggested a stress-releasing therapy called The Journey, of which I am instantly sceptical and slightly alarmed. I prefer to keep my issues under the surface rather than find time to deal with the fall-out. Sarah has met this sort of hesitation before.
She says brightly we will schedule it for my last day when I'm a little more relaxed. Remembering some maxim about what we most resist is probably what we most need, I capitulate and when I have my session, it's glorious. I laugh, I cry, I dump emotional baggage and leave the room with a lighter tread.
Less confronting was the Rockupuncture, which is so good I sign up for a second session. A consultation with a naturopath sees me given a magnesium powder which ends the cramping feet and calves that plague me at night. I pass on the opportunity to have colonic hydrotherapy which is also on offer and makes for surprisingly good anecdotes at dinner.
Like everything here, you can join in or drop out as much as you wish. If you don't have spa bookings, there are the two pools to dip into (or put in some serious lengths) and a maze of walking tracks bisecting the acreage. And there's always your room to retreat to for an afternoon snooze. Mine is one of the Orchard Suites; well appointed rooms with high ceilings, fans and cedar shutters to capture the cross-breezes. There are deep shaded balconies and beyond, amid the mango, avocado, guava and pawpaw trees, well-named Pretty Face wallabies and their joeys graze.
And so the week slips by. I am not missing coffee or chocolate - caffeine is off the menu and sugar is in short supply - and while I said yes to the celebratory glass of wine offered with the last evening meal, I could have just as easily refused it.
On the flight home I think about to whom I would recommend this experience. I make two mental lists - people who should go right this minute and people who should just go. I cannot think of a single person who would not benefit from a week in the care of these safe, gentle, hands.
l Kirsty Cameron was a guest of Gwinganna and enjoyed the Sunday to Friday Optimum Wellbeing programme.
- HOS