Gill South seeks expert advice for when time zone changes get you all out-of-kilter.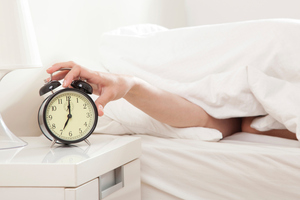 I'll say it loud and proud. I have just come back from a five-day jaunt to Melbourne and I'm jet-lagged. Yes, that's right people, jet-lagged. This former international woman of mystery, who thought nothing of jetting off to Moscow or New York in her day, is jet-lagged from a weeny trip across the ditch. Laugh all you like.
In fact, I felt so out of it my first day back, I nearly had a wee car crash as a guy came racing up on my left and I was turning right.
I could not shake this general "otherworldly" feel about myself all day. I probably shouldn't have been driving.
I'd got up that day at 7am, which I think you'll find is 5am Melbourne time. It felt like the middle of the night but I forged on, with limited success.
I've talked to a couple of specialists at the University of Auckland's Faculty of Medicine about my plight.
Circadian biologist Dr James Cheeseman explains the science behind jet lag. Everybody has a 24-hour biological clock and when you travel certain distances you move outside the range of entrainment or synchronisation, says James. Every biological clock is entrained every day by daylight. Two things are going on with jet lag; the circadian clock is driving you to sleep according to the time zone you started off in, plus you also have sleep deprivation.
Dr Tony Fernando, a sleep specialist and psychiatrist at the university, works with jet-lagged patients (there are people with permanent jet lag, poor things) and kindly sympathises with me. When you get to a "certain age", he says - quickly adding, in your 30s, 40s and 50s - it is much harder to adjust to travelling between different time zones.
Even the switch to daylight saving can be a challenge to such people, he says. Oh yes, I struggle with that.
The most common symptoms of jet lag are having difficulty sleeping, but also our reflexes are not as sharp (which explains the near car incident) and we are not as co-ordinated; just like people who have poor-quality sleep, says Tony. He asks me if I have been feeling more achy. Yes, and also a bit chilly. Both are common responses to jet lag.
To get over jet lag it is very important that we have daytime light exposure, particularly in the morning. Then we should go through as normal a routine as we can during the day, he advises.
When living in our normal time zones, a couple of hours before we feel sleepy in the evening, we have a melatonin hormone spike, a surge in our brain, when it will secrete melatonin. That melatonin prepares the body and the brain for sleep, telling the brain: "In a couple of hours you will feel sleepy and start shutting down."
When deeply jet-lagged, as we tend to be when visiting Britain, for instance, Tony recommends taking melatonin doses at the end of the day to send the sleep-time message to the brain and body.
He says to ask a GP to recommend the appropriate dose and to take it for three to four days.
We are planning a big family trip to Britain next year and last time we went, jet lag was a real problem. Tip-toeing down the hall at 4am in a ravenous hunt for breakfast/dinner was not our finest moment. This could be our salvation.
Next week:
I'm copping a bit of criticism for my TV-watching habits. Could it be bad for my health? I consult the experts.