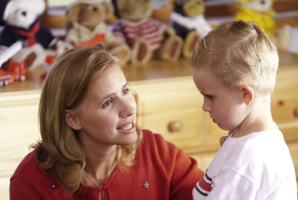 Parents who coddle their kids too much early on increase the chances of their children growing up to develop anxiety conditions, researchers say.
Prof Jennifer Hudson led a team of researchers from the Centre for Emotional Health at Macquarie University in monitoring 200 children. They assessed the youngsters at three and four-years-old. Five years later they were assessed again.
"The study found the strongest predictor of anxiety at age nine was the child's anxiety at age four," Prof Hudson said.
The researchers observed mothers interacting with their children and asked them to respond to statements like "I determine whom my child will play with" and "I dress my child even if he/she can do it alone."
Results revealed the preschool children who exhibit anxiety and are withdrawn tend to be the offspring of "helicopter parents".
"Our overall findings show that preschool children are more likely to have a clinical anxiety diagnosis in middle childhood in the group of mothers who were overly involved or overprotective," Prof Hudson said.
They also found women who were suffering from anxiety were more likely to have children with a similar condition, Medical Daily reported.
- HERALD ONLINE