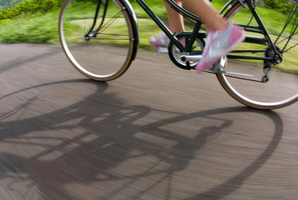 I'm happy to say since my training for the Lake Taupo Cycle Challenge began a month ago I've already had my first convert to the code of cycling. After seeing his mum regularly venture out on her bike, my 12-year-old son Jack appears to have caught the cycling bug, and this weekend, tackled a 20km ride with me - very successfully might I add. He's even making noises about training for a 40km leg of the race, which fills me with pride. I'm already having visions of us crossing the finish line together - we'll be punching the air in triumph as we grin in admiration at each other. However the reality could be quite different if our training run is anything to go by - Jack will undoubtedly race off ahead of me and sail over the finish line leaving me in his wake. But a mum can dream can't she?
Daydreams aside, my training is coming along nicely. I've conquered my fear of bad weather. I'd been so used to my hefty mountain bike that riding in strong wind on my light as a feather hybrid was a little disconcerting - but I've adjusted to it quickly. A cycling friend of mine suggested getting out in bad weather as much as possible so, come race day, you're ready for anything.
Great advice that.
This weekend I met up with my trainer, ace cyclist Amy Taylor. Amy's day job is development manager for Bike NZ but she's also an experienced coach and author of the Lake Taupo Cycle Challenge Guide. This nifty little book is not just a training guide for the Taupo race, but could easily be used as a Bible for any newbie rider. It covers everything from getting the right gear, technique, nutrition, recovery and planning for a race.
Amy focused on three basic elements during our session - pedalling, posture and breathing. We also touched on nutrition at my request - any excuse to discuss food!
Pedalling
Rather than pedalling from the knees, push from the glutes though the quads - Amy says you'll get more power that way. By putting the ball of your foot on the pedal and pointing your toes through a 12-noon to 6pm position on the pedal stroke, you'll maximise on the potential of your calf muscles. Many riders make the mistake of keeping their ankle in a fixed position (be it toes pointed or flat footed), but this means the muscles don't change length and aren't being used.
Riding style and posture
Overall, Amy says I have a good riding style - which is a pleasant surprise to me as I wasn't aware I had one. She recommends having a still torso and trying not to rock from side to side when riding (a common problem, especially when tackling a hill). Always look forward during a hill climb rather than hunching down into the foetal position - another common problem. I admit, once I'm in the correct position, I instantly feel my tummy muscles tighten - that's a good thing.
Breathing
Amy says belly breathing (deep, regulated breathing that fills up your lungs) is most effective because it helps disperse the lactic acid that builds up in your muscles when you exercise. Lactic acid brings on fatigue and muscle soreness. Amy says shallow breathing is very common but counter-productive especially under the pressure of exercise, because it inhibits the flow of oxygen throughout the body.
Amy and I spoke at length about nutrition, which I'll focus on in my next blog. What to consume before, during and after a ride can make all the difference to a cyclist's efficiency and aid a quicker recovery.