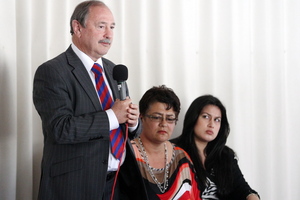 Current Hawke's Bay District Health Board chairman Kevin Atkinson, pharmacist Peter Dunkerley and Hastings District Councillor Jacoby Poulain have all been elected to the new board in preliminary election results released this evening.
This result is based upon the counting of approximately 98% of the returned voting papers. The progress result does not include some special votes and voting papers returned today that are still in transit to the processing centre. The outcome of these elections may change once all voting papers have been counted.
There were seven vacancies on the board.
Hawkes Bay District Health Board (7 vacancies) results:
ATKINSON Kevin elected
DUNKERLEY Peter elected
KIRTON Diana elected
POULAIN Jacoby elected
FRANCIS Helen elected
DRUZIANIC Dan elected
SKIPWORTH Heather elected

AITCHESON Lynlee excluded
RUTHERFORD Pip excluded
FULLERTON-SMITH Beverley excluded
NORTON Graeme excluded
LESPERANCE Lucy excluded