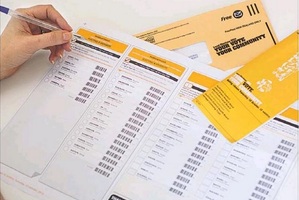 Hawke's Bay council and district health board candidates are eagerly awaiting preliminary voting results of the triennial election, expected to be released about 3pm today.
Voting closed at noon.
There are six councils and one district health board operating in Hawke's Bay's boundaries including Wairoa District Council, Napier City Council, Hastings District Council, Central Hawke's Bay District Council, Tararua District Council, Hawke's Bay Regional Council and the Hawke's Bay District Health Board.
Hastings people will also be waiting for the result of the fluoride referendum, which will determine whether the chemical should continue in Hastings district's water supply.
Electoral officers from each council are currently reviewing the preliminary voting results for release. The final count of special votes won't be determined, for some councils, until early next week.
District health board candidate Heather Skipworth was among the election candidates busy taking down campaign signs yesterday and this morning.
She posted on her Facebook page that she expected to know by 5.30pm today whether she had "made it on the Hawke's Bay District Health Board."
She thank her friends and family for support during the election campaign and said the biggest thrill had been encouraging more people to vote.
"No matter what the outcome today brings, I know I achieved one of my goals, to educate whanau who never vote to vote, that's been the most satisfying part of it all is listening to people say, I don't vote and this is the first time I've ever voted and I voted for you.
"To know they voted for me is humbling, but to know they voted is worth so much more to me than you can imagine."