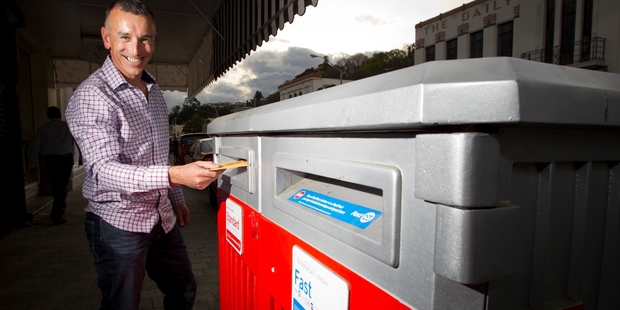 Voters in the local elections are being told if they're doing it by post - which is what a postal vote is all about - they must have it in the mail at least three days before voting closes.
The point that papers must be in the mail "no later than Wednesday, October 9, 2013" has been highlighted by Napier City Council candidate Kim Slater, who also happens to be "a postie".
The instruction appears on voting papers immediately below the more prominently displayed notice that voting closes at midday on October 12, and also on the back of envelopes supplied for posting them.
In the mail most Napier people will have received in the past thee days, the October 9 date is mentioned just those two times, but the October 12 closing date appears 10 times.
"I think this is misleading and could cause people to miss voting," said Mr Slater, who chose to change his duties so he would not be involved in delivering the papers.
"I believe that both dates should be given parity. They should appear together every time a date is shown, and both be emboldened."
Voters who don't get their papers in the mail by October 9 have to hand-deliver them to their council, not the location on the address panel: "Wellington Mail Centre, Lower Hutt 5045."
Meanwhile, Napier MP and Minister of Local Government Chris Tremain is urging people to vote and, if they haven't received their voting papers, to contact the electoral officer at their local council.
"If people expect to hold their councils accountable for decision making they need to be part of that process and vote," he said yesterday.
"It's about getting involved in your community and doesn't take a lot of effort.
"Council decision making has a visible impact on the day-to-day lives of people and it's important that we have elected councillors to represent the views of the community," he said.