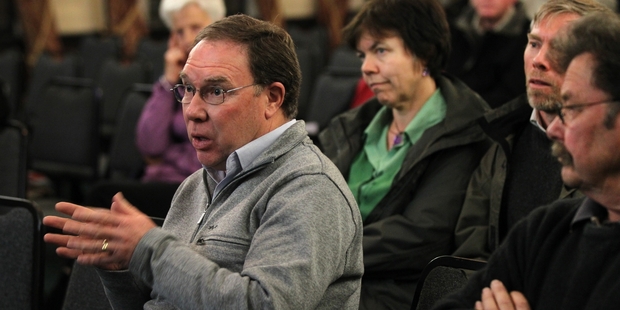 Residents and ratepayers gathered at Hawke's Bay Opera House last night as part of a series of public meetings in the region to share their views on the future shape of local government in Hawke's Bay.
The Local Government Commission is considering applications to change the structure of local authorities in Hawke's Bay. The proposals affect the Wairoa, Hastings and Central Hawke's Bay district councils, Napier City Council and Hawke's Bay Regional Council.
Commissioners Basil Morrison, Grant Kirby and Anne Carter outlined the process of the meetings, where they are to gauge whether there is "demonstrative support to push towards a draft plan".
Mr Morrison said the commissioners, after the week of public meetings, must settle on what the legislation describes as "reasonably practicable options" for local government in Hawke's Bay - one of those options must be the status quo.
He said the decision to move to publish a draft plan would come after the October 12 local elections.
However, public support at last night's meeting appeared to be overwhelmingly in favour of an amalgamation of Napier, Hastings and other local councils.
"I don't think keeping with the status quo is a good idea - I think merging all of the five councils is a good idea," one man said.
"We have put up with this for too long. This region needs to grow up and work together," another said.
"The biggest hurdle for people in Napier is they think they are debt free and are worried they will have to pick up Hastings' debt," one woman said.
Hastings Mayor Lawrence Yule was also present last night and strongly urged people to challenge the current local government structure.
"I don't believe we are doing the best for our citizens if we hang onto the current structure," he said. "What the region actually lacks is a collective leadership - as well as the pretty dire social stats in this region that it seems people don't know how to fix."
Commission CEO Donald Riezebos said the commissioners' several fact-finding visits in Hawke's Bay to meet local groups would provide reasonable and practicable options for local government.
"Discussions at the public meetings will assist the commission as it narrows its list of reasonably practicable options for local government in Hawke's Bay before releasing a draft proposal later in the year."