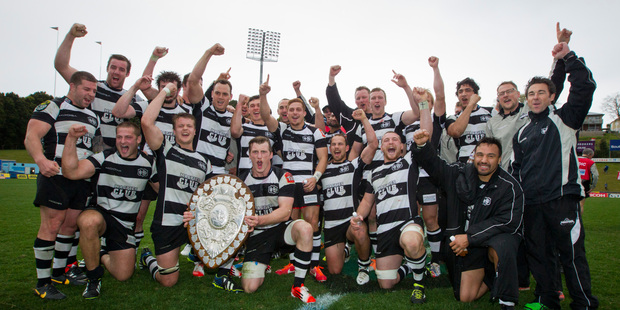 Hawke's Bay Rugby Union CEO Mike Bishop repeated one word repeatedly after Saturday's Ranfurly Shield challenge in Pukekohe: "Unbelievable."
"This is going to be an enormous week for Hawke's Bay rugby. For one week, we will have the Bledisloe Cup, the Rugby Championship Trophy and the Ranfurly Shield, we will be the home of rugby," Mr Bishop said after the Magpies' 27-21 win against the Counties-Manukau Steelers.
"The shield has a bit of character, it's a special thing and to get it back less than a year after Counties took it off us is great. Craig [Magpies head coach Craig Philpott], Danny [assistant coach Danny Lee] and the team must be congratulated on their efforts.
At the same time hats off to Counties for the time they had with it and the way they fought back, Mr Bishop said.
He was blown away by the chanting going on in the main grandstand at ECOLight Stadium and compared it with crowds at United Kingdom football games.
Mr Bishop was full of praise for the manner in which Hawke's Bay supporters drowned out the Steelers fans with Come on the Bay chants.
He pointed out a large chunk of the temporary seating erected at Napier's McLean Park for Saturday night's All Blacks test against Argentina will remain to accommodate an anticipated big crowd for the first shield defence against Otago on September 14. "While the seating in front of the Harris stand will have to go after the test we will be able to keep the rest. It will be great to fill them ... pretty special."
A delighted Hawke's Bay Rugby Union president Blair Furlong, one of the heroes from the Magpies 1960s shield era said there is potential to have 22,000-plus crowds on consecutive weekends. The size of his grin was matched by one of his Magpies teammates from the 60s and early 70s Hilton Meech.