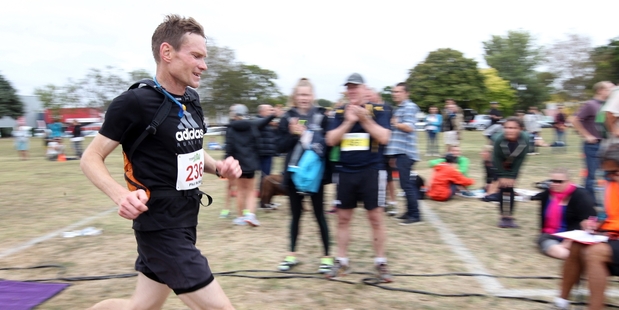 Phil McKay produced an admirable solo effort on Saturday at Westshore when taking out the annual Hawke's Bay Gisborne Road Champs.
Apart from the first 2km when he had Napier's Robert Strong for company, McKay was left alone out front to effectively produce a time trial for the upcoming National Road Champs in Tauranga.
Strong opted to withdraw after that initial burst, leaving the Hastings' runner to forge ahead on his own with a trio of chasing Napier runners his nearest company but well adrift of the front-running McKay.
McKay kept the tempo up to eventually cross the line in 37m 41s for the 10km. It was three and a half minutes before Jeremy Moore arrived in second having outlasted Eric Phimister and Chris Marshall.
It was a closer battle in some of the other grades with the M16 grade a standout.
The Napier quartet of Zayne Jennings, Connor Pearson, Dylan Barron and James Mikkelson set off in cagey fashion over the first of two laps with no one prepared to up the ante.
With 1.5km of the 5km to go, Jennings upped the pace to stretch the rubber band on the group. Pearson responded to the challenge with Barron and Mikkelson not able to match the change in speed.
Jennings knew he could not ease up and kept the hammer down until crossing the line in a quality time of 18m 47s for the 5km.
Pearson arrived seven seconds later with Barron a further six seconds back in third.
The W19 race was also a race-long battle with Laura Langley refusing to give up on heading the well-performed Holly Manning. She dropped Roisin Pearson after the first 2.5km, but Manning is a class act and responded to keep Langley at bay and claim the win in 19m 22s for the 5km with a brave Langley arriving nine seconds later.
The under-12 race also went down to the wire with Hastings' runner Will Tidswell and Napier's Ayden Jones going toe-to-toe for the 2.4km. Tidswell had enough strength at the finish however to claim the win in 9m 18s with Jones a mere four seconds behind him.
Jenna Tidswell made it a 100 per cent success rate for the family when taking the G14 3km in 12m 12s to see off Napier's Sophie Hogan.
In other results, Annie Kane claimed a comfortable win in the Masters women from Marilyn Brown and Kim Creagh.
Alex Langley, meanwhile, made it a good family day to take the B14 3km in 11m 11s while Alia Wentz ran well to hold off Aniele Apperley in winning the girls under-12.
Georgia Creagh won the W16 5km and Todd Burnard was first home in the M19.