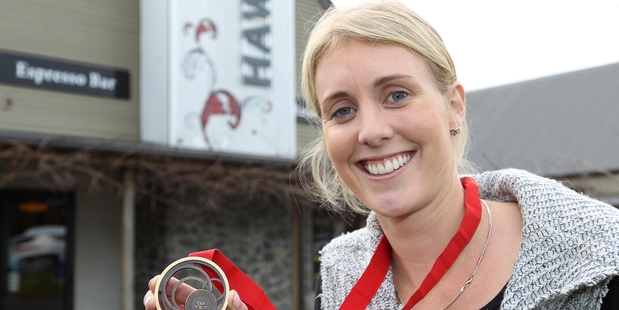 Emily Naylor is taking a sabbatical year from international hockey rather than contemplate the inevitability of hanging up her stick.
"People are still asking me but my gut feeling is I'll have a year off [international hockey]," Naylor says in Hastings, after returning with a bronze medal from the Glasgow Commonwealth Games in Scotland last month.
"I'll probably play NHL [National Hockey League] again next year just to give my body a break," says the 28-year-old Central Mysticks player who holds the record for the most-capped women's hockey international.
"I had a cortisone [for an ankle injury] before I left for the Commonwealth Games."
Doing "other things" is on the defender's agenda.
"You know, I want to try to get into a bit of a career," she says, keen to secure employment in the events marketing field with Bay's Bruce Mactaggart.
"I want to spend a bit more time in Hawke's Bay with my family, friends and my partner."
A reassessment will follow that gap year and if she still "has it" then making the cut for Rio Olympics in 2016 will be on the card.
"We'll just see how the year goes because I think I need that year to just freshen up and if I miss it enough I'll possibly go back for another year or so.
"If I'm enjoying life too much then ... I'll obviously keep playing club hockey and at NHL level so I won't be giving up hockey completely."
Palmerston North-born Naylor, who arrived here almost two years ago, finds the hectic international schedule quite draining.
She was among other senior Kiwi internationals who took a break in 2012 after they bowed out of the 3rd/4th play-offs against hosts Great Britain at the London Olympics.
"I will talk to Mark about it in the next few weeks but my gut feeling is I'll need to take a break so I'm not saying I'm retiring just yet," she says of coach Mark Hager.
Her return to the Sticks squad will depend on who else is around should the coaches pick her for the 2016 Rio Olympics in Brazil.
The Black Sticks never lost faith in their ability to clinch gold, mindful Australia were their biggest hurdle.
However, the shootout loss to England was unexpected considering the latter were 11th at the World Championship in the Netherlands a few weeks earlier.
The "hurting" Poms had made dramatic improvements under a new coach between the championship and the Games, coming close to beating the Aussies in a shootout in the final.
"We've had a few shootout losses now so it's quite a painful way to lose like that."
Naylor says there's always immense pressure on any five players taking penalty shots.
"We practise it enough [and] do it at most trainings but, in those pressure situations, we can't seem to score when you're that close."
While the women hadn't underestimated England's ability, they were guilty of looking too far ahead at a possible Kiwi-Aussie final.
Naylor's bronze comes on the heels of silver at the 2010 Dehli Games and two bronzes from World Championships.
"I was saying to someone the other day winning a bronze is more exciting than winning silver," she says, juxtaposing it with the low of the fourth place at the London Olympics with the high of the 5-2 win over South Africa for bronze in Glasgow.
"It was quite a strange feeling," she says, running her finger around the medal while sipping coffee at Hawthorne cafe in Havelock North.
"I think in London we were so gutted to just miss out in the final - we drew with the No 1 in the world [the Netherlands and lost in the shootout] - so we were so deflated we let it affect us in the last game."
Former Hockeyroo Hager's desire to fulfil a life-long dream of coaching his country's world No 1 men's team remains in limbo as the women await news.
"I think if he gets the job, he'll take it and if he doesn't he'll stick with us."
Naylor says the women feel he's the ideal coach to see them through to Rio.
The affable Scots did a fine job in creating an ambience in trying to emulate the efforts of London Olympics.
"They even put on some good weather for us because when we were leaving [New Zealand] we heard it was going to be freezing but that opening weekend it was 27 to 28 degrees."
The hockey stadium also got the thumbs up.
An everlasting moment for Naylor is having her family watch her play.
In fact, she was the Black Stick with the biggest fan base because she's in the twilight zone of her career.
"I had aunties, uncles and even my Irish granddad, who I only met last year, there.
"It's quite a long story but he was in the stands for one of my games," she says of Seamus O'Rien who adopted her mother, Sarah, as a child.
Naylor played her 250th game in Dublin on July 17, just before the Games and O'Rien, 86, watched her play there, too.
"It was quite neat because he's from Dublin and they mentioned I was the first woman in New Zealand history to make 250 so it was quite special to have your Irish granddad in the stand."
The Sticks had a couple of fun nights at New Zealand House to mingle with fans in Glasgow.
"[Wellington-based musician] Hollie Smith sang one night so it was quite a cool atmosphere in the centre of Glasgow," she says.
With most of her family members and friends returning home, Naylor travelled for 10 days with partner and deer farmer Harry Gaddum, of Kereru, taking in more of the Scotland and London scenery.