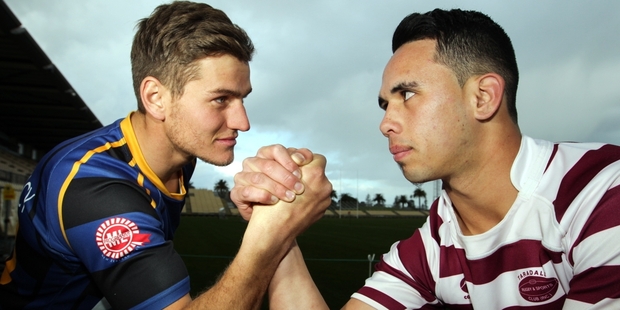 Originally the battle of the first five-eighths in today's Hawke's Bay Maddison Trophy premier club rugby final had an extra incentive up for grabs.
Carters Frame and Truss Taradale's Manihera Eden and Progressive Meats Limited Havelock North's J'ndre Liebenberg were both contenders for the No10 jersey in the Hawke's Bay Development team which opens their 2014 campaign against Poverty Bay in Wairoa next Saturday. However Eden has withdrawn from the battle.
"I leave for Ireland on Wednesday," Eden said during the countdown to the McLean Park, Napier final.
Through his clubmate and former Magpies' captain Jason Shoemark, Eden, 21, has scored an eight-month contract with Ulster division two club City of Armagh. He travels with the team to France on Friday for two pre-season games.
Two Waikato players, including former Magpies' co-coach Tom Coventry's son Joe, will add to the Kiwi flavour at the club.
While Eden is naturally excited about his overseas stint which he believes will enhance his chances of Magpies selection in the future he is still focused on today's clash.
"It's my first Maddison Trophy final and I want to make it one to remember. The flight to the UK will be a lot happier if we win."
As was the case during last weekend's semifinals, Eden will delegate the goal kicking responsibilities to second five-eighth Uta Tupuola.
"This will allow me to concentrate on my running game and dictating play," Eden said.
Although all but one of the Taradale backs will be playing in their first Maddison Trophy final, Eden is confident his team will capture their first title since 2009.
"The whole club is pretty positive ... I've just checked Facebook and we won't be short of bus loads of supporters," he said.
For Taradale co-coach Blair Cross, a first winner's medal will be an appropriate send off as he intends to concentrate more on representative coaching next year as well as a development role within the club.
Liebenberg, 23, will also be playing in his first Maddison Trophy final. He agreed securing the starting 10 jersey for the Hawke's Bay Development team is a huge incentive.
"I'll try my best to claim it. But at the same time I know Magpies players will be coming down to the team in search of game time and they are the better players if I can say that."
He agreed it would be a sad affair for the villagers to lose today's final after going through the competition unbeaten. He also agreed the superior goalkicking his team boasts courtesy of himself and his deputy, Ethan Bradey, could give the 2012 champions the edge. "My goalkicking has been okay ... around the 68 per cent mark. I like to be around 75 per cent," Liebenberg said.
Another of Liebenberg's strengths is his support play.
"We're a team which likes to run the ball and when one of our backs makes a line break they know they will always have options inside and out," Liebenberg said.
Today's final will be his first appearance on McLean Park and, after inspecting the pitch yesterday, he said it was in "fantastic order."
"Our boys are pumped particularly Adam," he said referring to centre Adam Bradey who is eyeing his fourth taste of Maddison Trophy glory.