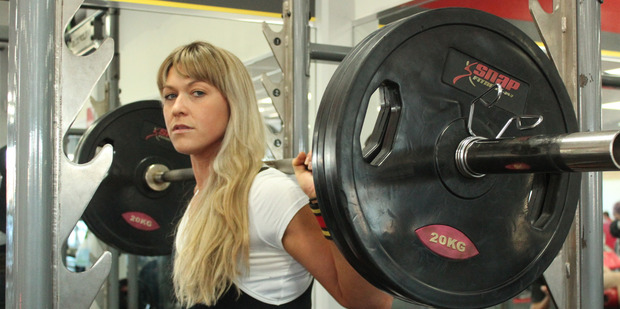 It's not her hubby's passion but Chloe Boyd is comfortable in the knowledge she can always bank on his support.
"It comes in handy when he needs to move his bags of plaster," she says with a grin, of husband Reuben, a Napier plasterer.
Boyd, a powerlifter since February this year, is off to the five-day nationals in Christchurch from Wednesday.
The 32-year-old is competing in her maiden New Zealand championship and will represent the Central Districts team, aptly dubbed the "Green Machine".
For the final-year Eastern Institute of Technology sport and recreation degree student, the sport is a tangential exodus from the humdrum of everyday routine.
"For a mother and a wife, it's the only area I don't have to compromise," she says. "It's just you versus the weight."
Her maternal and spousal instincts, for example, demand her family must come first. That is, to find a modicum of balance in her domestic habitat.
"I missed breakfast today. I wanted to have it but I had to take Lotte to school so getting her hair done was more important than eating," says the mother of Charlotte, 4, Ella, 6, and Noah, 10.
Conversely, her family now compromise to enable her to participate in her sport.
"It takes Reuben a heck of a lot more home responsibility than he used to," says Boyd, leaving her husband with the kids when she competes and trains at weekends in Wellington.
Her mother, Marian Smale, back from Northland, is a godsend.
"She's an enthusiastic powerlifting supporter now and extremely proud of me."
The strapping stature of her parents meant Boyd had to come to terms with her physical attributes.
"Growing up in the farm, I was always a big girl - not fat.
"I was always big-leg Chloe."
The tomboy persona was the ideal faade to disguise her perceived sense of lack of femininity.
"I seldom wore skirts and I was always self-conscious about my legs.
"At 32, I guess, I'm finding comfort in my skin."
Her appraisal of her legs extends to discovering she can do things with a part of her anatomy she never imagined she could.
"I squat 125kg. That's a lot of weight for a girl to carry."
Powerlifting entails back squat, bench press and deadlift.
Last year she was lifting weights geared towards bodybuilding.
She reckons objectivity and subjectivity is the difference between the two codes.
"Bodybuilding is subjective because the outcome of the competition comes down to someone else's opinion of your physique.
"I'm not bashing bodybuilding because it's an incredible sport but I love to eat."
That is not to say she doesn't adhere to a dietary regime.
"I've always been a little odd, quirky. I haven't found something that fills my mould but in powerlifting I fit in very well.
"It's about being better than yourself compared with the last time you lifted."
Late that year, she received a phone call to marshal at a strongman competition at the Hawke's Bay Anniversary Day Show.
"I was helping out powerlifters and the guys thought I was built for it as a solid girl," says the woman who used to train with rugby blokes.
In December she went to the Angel's Gym (now HB Fitness Centre) in Hastings.
She found traction with a group of blokes who call themselves "The Monsters of the East" and travel as a team.
"The second you join powerlifters, you gain a family. They are such a tight group."
Weighing 80kg, Boyd is a "raw lifter" in the Open under-84kg division.
"I like to sit a little under 84kg so that in the last week I can have some carbos," says the woman who trains five times a week but managed 11 a week earlier in the year.
"I do split training and I never starve myself."
The nationals is an opportune time for her to establish PBs and be among the powerlifting extended family.